Ok here is a tutorial on pine needle baskets. it is 13pages long in MS Word with pictures so I will see how it goes posting it here.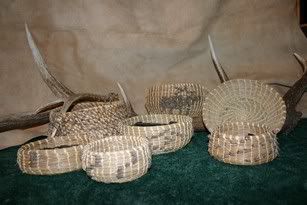 Pine Needle Basket Tutorial By Kirby Records&nbsp &nbsp &nbsp &nbsp &nbsp &nbsp &nbsp &nbsp &nbsp &nbsp &nbsp &nbsp &nbsp &nbsp &nbsp &nbsp &nbsp &nbsp &nbsp &nbsp &nbsp &nbsp &nbsp &nbsp &nbsp &nbsp &nbsp &nbsp &nbsp &nbsp &nbsp &nbsp May 2006
Spiral pattern stitching adorns the inside of the base. Straight vertical stitching up the out side allows the dark brown sheathing on the tree end of a group of pine needles to be utilized to get a pattern on the baskets
This is the way I make pine needle baskets. I learned from an earlier tutorial that I have lost and cannot give proper credit too but I do thank that author and artist and my parents for giving it to me and the encouragement.
Materials you will need:
Bone needle or equivalent: Fig 1
&nbsp &nbsp &nbsp &nbsp The hand made bone needle is thin and flat but wide enough to give you a better grip when pulling it through the pine needles. It will polish with use and eventually wear down to the point of needing to be replaced because it gets to short. It should be about wide at the hole end, tapering down to a point. The hole should be about long and as narrow as the drill bit you drill it with.
Small stick about the diameter of a pencil:
Or just the pencil itself! This is used only once at the very beginning
Pine Needles:
&nbsp &nbsp &nbsp &nbsp Lots and lots of pine needles. These should be last years drops that have dried and turned brown. Look for the longest you can find and look for some with thick dark brown sheaths still on the tree end for use in the outside decorations. Most of these sheaths are removed for ease of use when adding to your basket. Store your needles dry as damp needles will mold.
Raffia:
If you are not making your own natural cordage to stitch your basket with then get a package of Raffia from a craft supplier. Raffia is a natural material shredded into long threads that can be used as is, or twisted up into a smaller diameter sturdy thread.
There is a direction to raffia for this purpose. The thick end is put through the needle and the thin end is left to trail. If you get the raffia in your needle backwards it will shred into really thin threads as it goes through the pine needles.
I prefer to start with a long wide piece to build the button and switch to twisting the thread after the first round with a group of pine needles.
Bucket of water:
Use a bucket of water or a stream or other water source to soak the needles in.
After the needles have dried naturally and are completely shrunk, they become brittle until they are soaked in water.
Submerge them in water over night, 2 days would be better. You may want to change out the water every few days if you do not build a basket in that time as the water will start growing some interesting things.
Conventions used in this tutorial:
I colorized the pictures for better understanding.
I show the pine needles as green even though, you should Use pre shrunk and dried needles to keep you finished basket from shrinking.
The raffia is yellow with orange depicting the current and last stitches.
The bone needle is brown.
All other depictions are in black & white to keep the confusion to a minimum.
See Fig 10:
Refer to Fig. 10 to see the proper way for a right hander to hold the basket base from the beginning loops to the point he is ready to start up the side.
A left hander needs only to reverse the directions when left and right are involved. The spiral produced will be opposite of the one shown.
This method of holding allows you the most efficiency when trying to hold too many things at one time. It is worth your time to learn it.
Warning:
Dried out pine needles are sharp and crumble easily. If you do get a pine needle sliver it can be hard to get it back out. Basket making is hard on your hands.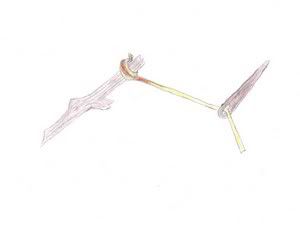 Fig 6
Select a fairly long piece of raffia and thread your needle. Thread the thick end through the needle about 4 to 6 inches, and bend it back against itself.
Wrap the thin end around your small stick or pencil 4 or 5 times then slide the formed loop off, pinched between the fingers of your left hand as shown in Fig 10. Thumb and second finger holding the loop, Index finger available to hold your stitching in place as you go.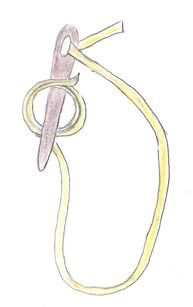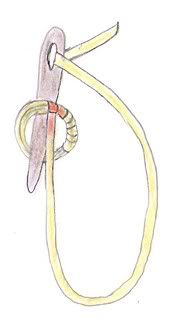 Fig7, Fig 8
Fig 7 shows how to start stitching. Fig 8 shows the first right to left stitches for a right hand person. A left hand person would be working left to right. You can spin the loop between your thumb and second finger while holding the stitch to the place you want it to go with your index finger. Complete a round of stitches to completely encase your loop of raffia. Pull the stitches tight as you go.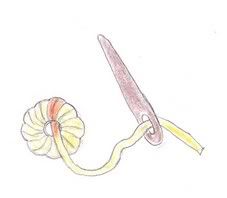 Fig 9
Continue stitching around the button until the center hole shrinks to just a little wider than your needle or you have approximately 12-14 inches of raffia left with your needle.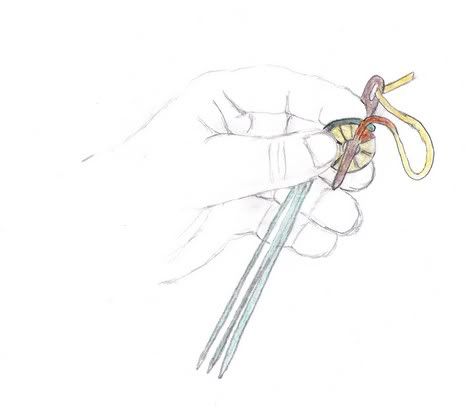 Fig10
Pop the sheathing off the tree end of a good limber group of pine needles. Lay it across the button so that your next stitch will cover it about 1/8 from the tree end. The pine needles should hang down inside your palm as you hold the button , Pine needles and stitch all in place with your holding hand and pull the stitch tight with your working hand.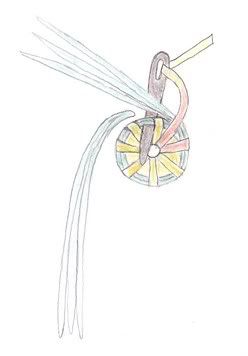 Fig 11
Stitch all the way around the button again, this time leaving a gap between each stitch where your pine needles can be seen and are stacked neatly in place.
When you get around past your starting point, pop the end off another good group of needles and slide the tree end under the first group as shown in Fig 11. This time when you take your stitch, instead of through the center of the button, slide it under the pine needles and through the stitch from the layer below. From the back RIGHT side of the stitch as you look at it, to the LEFT front. Continue stitching this way around the button until you pass your starting point. Add another set of needles in the same manner. All the needles we use in the base will have their sheaths removed for this first basket.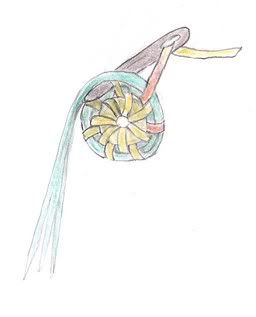 Fig 12
Continue to add pine needles as you go and begin adding them more frequently until you are maintaining a group about the diameter of a pencil. A little bigger wont hurt either.
Continue stitching until there is not enough raffia left to take a tight stitch.
Select another long raffia thread and thread your needle as before. Insert it from the back to the front as before only start 3 stitches back from where you left off and tracing over your old stitches.
Fig 13
(In this figure the ends of both pieces of raffia are colored orange. They will be trimmed after you get your stitches past where you left off.)
Once you pass your last stitches with the old raffia then you can trim the ends that are left sticking out of your basket so they do not get in your way. Continue as before stitching and adding pine needles.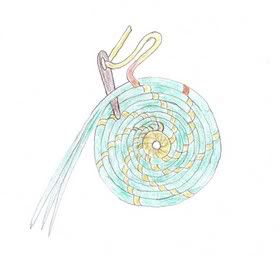 Fig 14 , Fig 15
After three or four round you should be able to see a spiral pattern developing. The spiral spreads as the basket base gets larger. When your stitches get to be over an inch apart, add an in between stitch for each stitch you have on one complete round. Stitch it though the center of the round of needles below it, since there is no existing stitch to go through. Fig 14 shows the first in between stitch being taken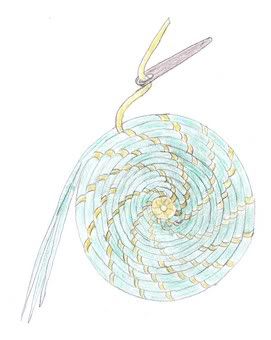 Fig 16
Continue stitching the next round through each stitch as before and watch your new set of spiral lines grow. Grow your basket base to the diameter you want your basket to be. Once there allow for one more complete round of pine needles before we start up.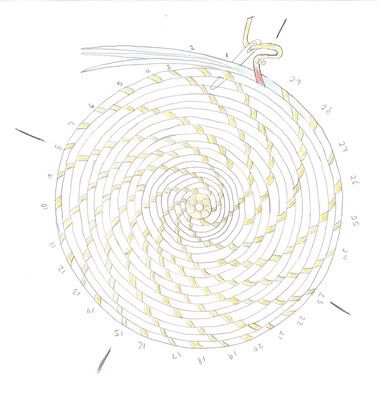 Fig 17
On the last round, make a stitch approximately every inch or less regardless of how many stitches fall between your existing stitches. The total stitch count for this round should be an even number so you can break down the perimeter of your basket into equal vertical rows of stitches to form your pattern
Fig 18
As you start up with the walls of your basket, the method of stitching changes.
Lay your base down with the spiral pattern up. Pull your group of pine needles on top of the last round as best you can. Take your next stitch running through the back right side of the stitch immediately below. You are going back through the stitch your last stitch just came through. Run the needle parallel with the pine needle group and come out of the front, up side on the left side of the next stitch of the last round on the base.
See Fig 18

Fig 19
Continue stitching in this manner building the first round of the sides of your basket. It is a good time if you havent been twisting up you raffia to a tight string to start doing it. It will make the stitch on the out side of your basket look like vertical lines
Fig 20
To start your pattern you need to calculate out how many lines of vertical stitches you will end up in how many groups around the perimeter of your basket. In the example we have 30 stitch lines as per Fig 17 so we will start the pattern every 5th line.
Pick the line you intend to start with. Add two groups of pine needles to your group only leave the sheaths on and align them on the out side of your basket side my side.
I use 2 sheaths for each spot because they are elongated. Two stacked up makes more of a dark square when looking at the basket. Also if one gets brittle and breaks off the other still shows the pattern.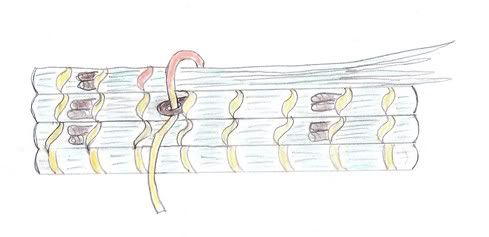 Fig 21
Pull the stitch tight and continue until you count the 5th line of stitching. Do not include the stitch that is holding the two decorative sheaths. Repeat, adding two more pine needle groups with the sheaths on. You may have to continue to add some pine needles without the sheaths in the same manner that you had building the base in order to maintain the pencil diameter.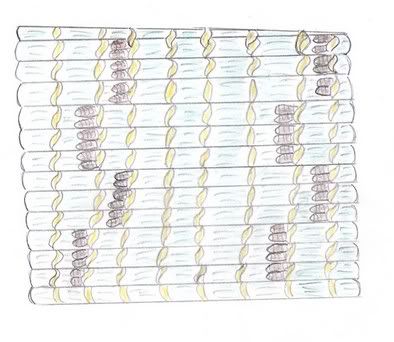 Fig22
When you reach the height you want simply stop adding pine needles and stitch a complete round over your existing stitches. This stiffens the lip of the basket and allows you to make sure the needle ends are tied down.
You can leave the raffia wide to make an accented lip of the basket
Now do it again! Good luck!EzCode Parsing Error: