here's a bow i've been lugging around for a year now. I put way too much work into these things. Ordered the wood from ebay last summer, spliced the billets, added the bamboo and the horn arrow pass and tips, and then it's been dead weight ever since. Tonight it started to come into form.
Here's the first brace, at about 4.5" from the backing. The shadow isn't a good indicator: the light is right beneath the left tip and doesn't touch the thing squarely.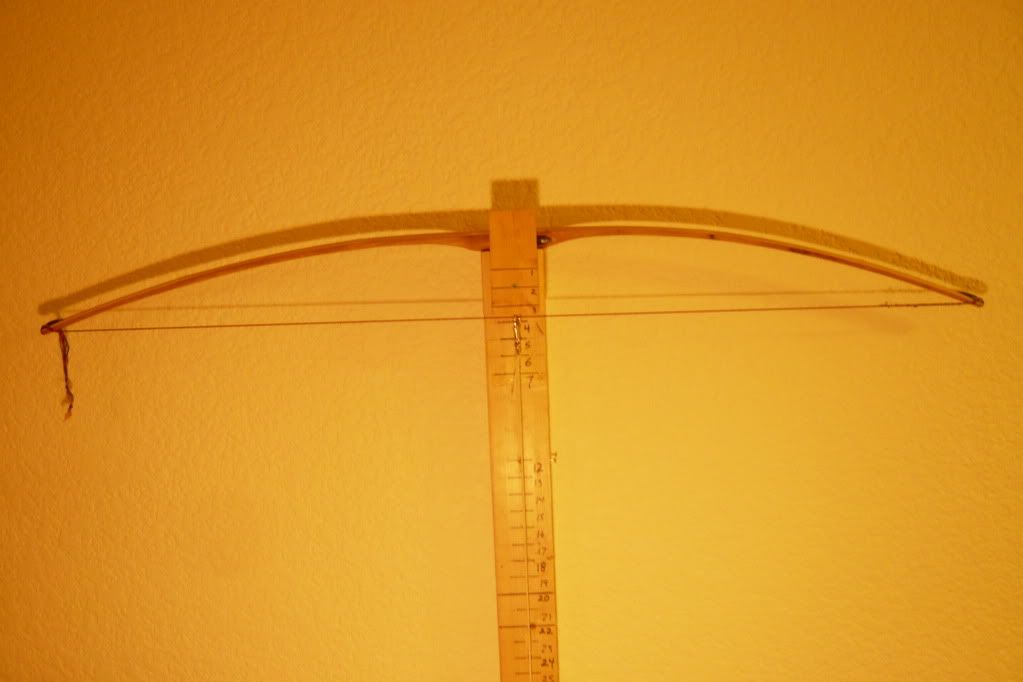 First draw to about 13". Weighs maximum 40# there. 35# probably. In keeping with my new philosophy, i'm going to keep the weight down on this one, and 40 is as high as i want it to go, and i think i can get a 26" draw safely from these limbs. Each limb is about 24" long before it thickens up into the fades, and given the quality of the material, 26" should be achievable, especially at the lower draw weight. I can see a flattish area a few inches out of the left fade: at that spot the osage sports a pretty impressive knot, and the bamboo's node rides right over top of it. Must not have been thinking that day. Other than that, though, the first test draw is pretty good. I tried my best to achieve even lines on the width taper, and even thickness all the way along.
The string runs straight through the center. Finally!
The handle area needed some gap filling, sad to say, and for insurance i wrapped it in sinew. Running out of sinew, but i talked to a butcher upisland, and it sounds like they'll give me all the deer legs for the taking, come the season. With those, plus what i get on my own hunts, i should be set. The horn inset should have been deeper, thicker. As it is, it's about the thickness of 3 guitar picks held together. However, it's good material and i like the visual effect on this bow, even though practically, osage needs no such reinforcement, being tough enough to withstand the slap of arrows on its own.
This is a challenging bow, carving the osage evenly is very difficult because the billets were very wild-grained, where it swirled around knots and then stepped-down along the length of the limb. Even so, i'm liking it and i hope it doesn't break.