A quick tale of failure.
On wednedsay I bought myself a length of blackbutt (
Eucalyptus pilularis)
from the local timber place. I hadn't used it before. But I had been searching through the stock and found a length that had ruler straight, uncannily parallel growth rings with no pins or knots. In terms of grain, One could not have asked for a better board.
I bought it and took it home. I cut off a shim and did a bend test on it and found it had the below properties:
MoE: 23.99 GPa
MoR: 142 MPa
I decided the bow I would make from it would be 92 MPa, as at this stress it would be well below the breaking point, and would allegedly not even take set. Well, maybe a few mm.
I did the calculations, and decided upon a 67" long flatbow. It would have a slightly narrowed handle that still worked right through to store energy and relieve stress from the limbs. To pull 45lb at 28", it would have to be 46mm wide at the flares. I printed out a template, glued it to the bow and left to dry.
A short while later I wound up the tension on the bandsaw blade, put on some Vivaldi and set to work cutting it out. I was very, very careful about the cutting out. I wanted to see what would happen if I cut a bow out to calculated dimensions and strung it up without any further tillering. I cut so that half of the printed line (about the width left by a medium ballpoint pen) remained on the bow.
The working limb was only 12mm thick at the fades and 4mm thick at the tips. This, in conjunction with the rather wide limbs made for a bow that looked a little like a ski. Wide and thin.
I found an old string and strung it up. Here it is right off the bandsaw with no touchup:
So far so good (but look closely at the left, lower tip). I thought I would try to bring it to partial draw. Here it is, again with no touchup, pulling 30lb at 20":
So far, it's looking really good (but again, see the left tip that I did not at the time). This bow took about 10 minutes to bandsaw out. Some people cut out a stave then spend hours getting it to this stage from the bandsaw stage. I did a quick graph, and based on this draw weight at this draw length, it would have extrapolated out to about 44lb @ 28". Not bad for an intended 45lb.
I drew it another inch and a half. To my horror, I saw a hinge develop about an inch and a half from the lower tip. A few seconds later, it let go and broke.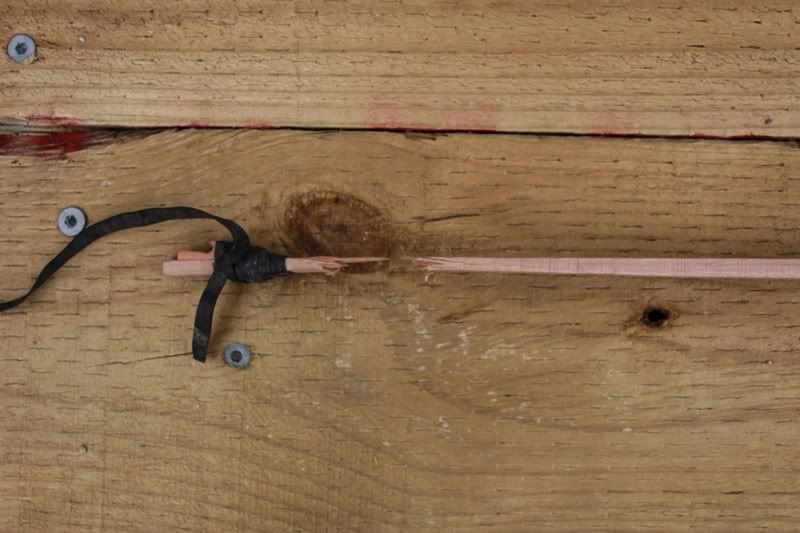 I was quite dissappointed. The fact that the results up until then had reflected the calulated data means that my conduct of the bend test had been accurate. I had been very careful in the cutting out. I do not think the way I braced the bow put the tip under any additional stress. There were no visible faults in this part of the wood, or indeed at any part of the stave.
Pretty much the only thing I can think of is that the moisture of the wood was slightly lower at this end of the bow than elsewhere throughout the timber. Super dry would might go some way to explaining the nature of the fracture.
Although the exercise was in the end a failure, the results up until the failure shows that mathematically calculating bow dimensions based on bend tests is an accurate and viable method for bow design.
Sigh.
Ciao,
Dave