Hi all,
I'm still new to bow making and to an extent, woodworking in general. I have done a lot of reading on this forum and elsewhere about various elements of construction, and either I'm missing it or just can't find it at the moment. If I am making a bow from just two pieces laminated, is it advantageous, detrimental, or rather a wash to flip the board going on the belly side of the bow? As mentioned, I'm new and all I really have to work with is board stock. I've got a decent hickory board in the garage and I'm debating whether to leave it in one piece, or saw it through, flip the belly half of it over and reconstruct. Heck, if I saw it through, I could even try out an inch or two of Perry Reflex.
Included is a diagram for clarity, as it seems you guys do love visual thinking.
I was thinking about 1/3 back and 2/3 belly.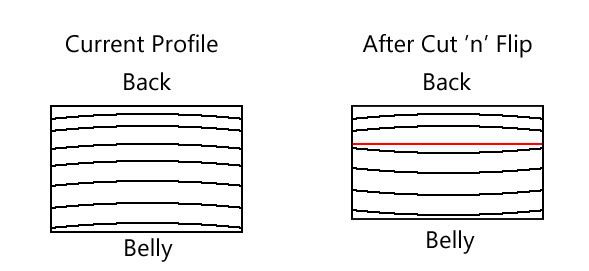 Thanks in advance.
Brandon