First, a couple of disclaimers. 1) I'm no expert, just passing along some of what I've learned so far. 2) I'm always on a quest to learn more and to improve my knapping, so I'm hoping that your comments might also help me to improve my own knapping.
3) Johnstone is a difficult material to work with, so if you're just starting out, don't be frustrated with the results. You'd be better off using glass or obsidian if you have access. If not, keep in mind that toilet tank porceline (johnstone) isn't the most desirable material to work with. But it is free, and plentyful.
That said, here we go......
I find discarded toilet tanks in the trash now and then. You might also contact local plumbers to find junk tanks for your use.
Be very careful breaking the tanks up. When you hit them, they break unpredictably. The initial pieces may be large, heavy and certainly sharp. If one falls on an unprotected hand, nasty cuts may occur. I wear gloves when breaking the stuff up.
Here's a tank I've started "spalling" (breaking into usable pieces). You can see the sandstone hammer stone I'm using to break it up: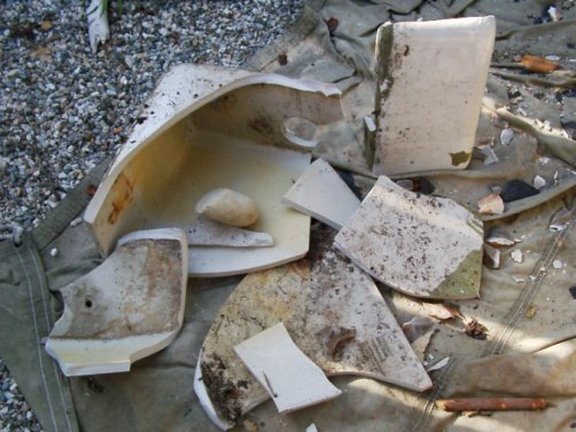 The tank will usually break up into pretty large pieces. When I have a big, square piece, I'll often hit it with a sharp blow dead center to create a radial fracture, and numerous blanks in one shot: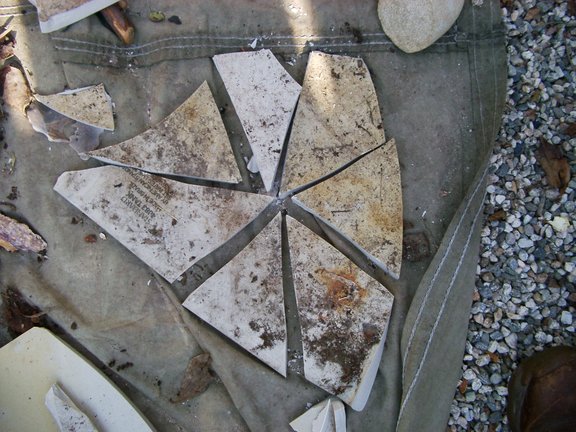 I've selected this piece to start. As with any slabbed material or naturally occuring tabular chert, I'm going to start by "stitching the edges" (see Idaho Clovisman's tutorial on slab knapping for some great info):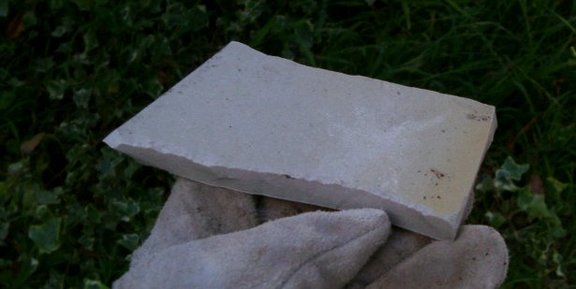 I searched around the pice to find a likely spot to begin my edge stitching. I found a great spot, and marked it with the blue pen. I'm just going to take some short little flakes that travel along the edge of the pice. Note that these stitching flakes are much differnt from thinning flakes. I'm not trying to thin the piece yet. Just trying to remove that square edge - one little flake at a time: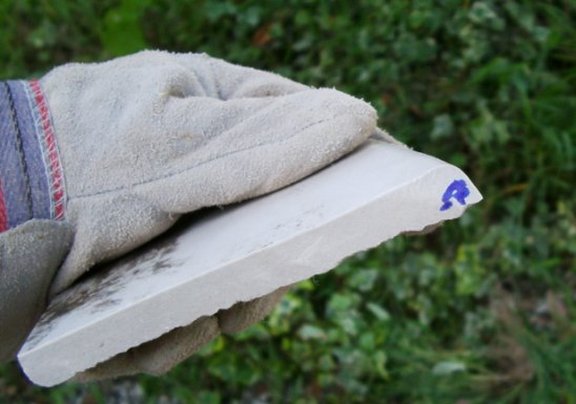 After each flake, I'm turing the stone over and taking a flake from the other face of the stone. Each flake creates the start of a new platform on the opposite face of the stone. In this next photo, I've flipped the stone over. You can see where the 1st flake came off, and how I set my new platform: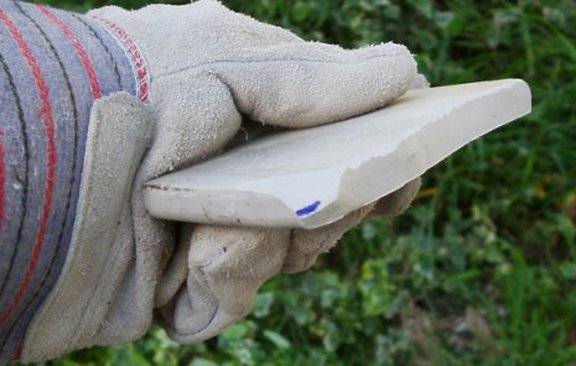 And so on, all the way down both edges of the stone (note that I'm only going to stitch through the square edge on the sides of the piece. I'll leave the top and bottom square for now):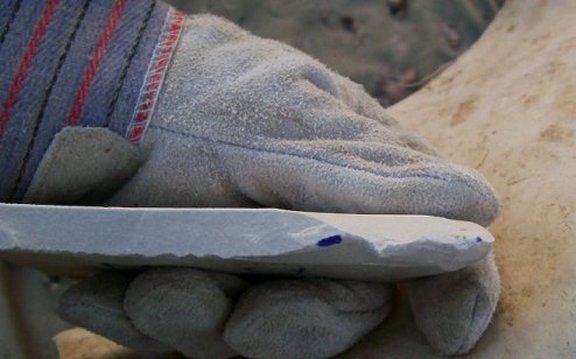 Here's one side finished, from the top all the way to the bottom of the piece: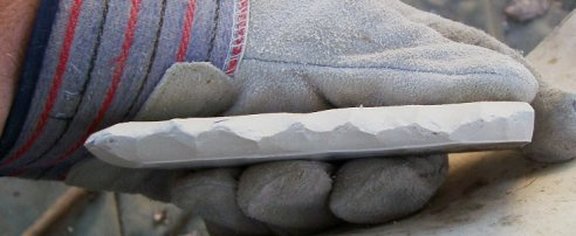 Then I repeated the process on the other side of the stone. I didn't bother with the top and bottom, as those square edges will dissappear later on. It's also a bad idea to hit the ends of the preform unless absolutely necessary.
Here's how the piece looks so far. Note that the edge stitching flakes are short. Note also that I've marked face #1 and face #2 so that you can tell one side from another as we progress (only face #1 is showing in this photo):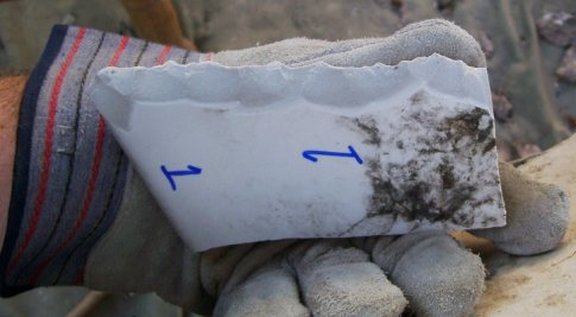 Back to an earlier photo for a second. This edge is what was created after stitching the edge. There are platforms that I can use here, but they need to be fixed up a bit. For one, I'm going to move the entire edge toward face #1 and create a continous platform from one end to the other.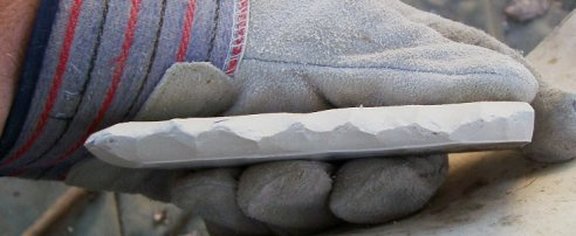 The edge on the right side of the point is approximately where I want the whole edge to be. So I'm going to flip the piece over so that face #1 is on top, and take a bunch of small edge adjustment flakes to move the edge up toward face #1.
Here's the result: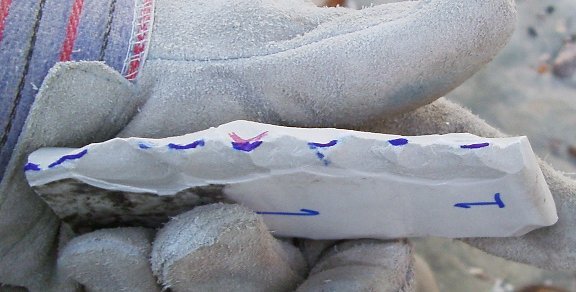 I've tipped the stone up so you can get your bearings. Face #1 is now back on the bottom, in the proper orientation to remove a series of flakes. Even though I've marked all of the possible platforms, I will only take about 3 or 4 flakes total from face #1. I will space those flakes out as needed.
Here's a straight on view (face #1 still on the bottom) of the platforms: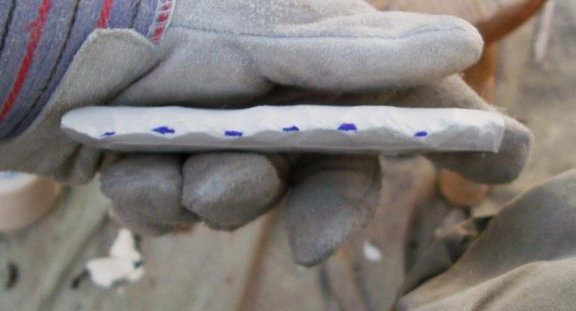 After some more abrading on the platforms, I take my series of flakes. This is a staged pic of the way I hold the piece and the general position of my copper bopper: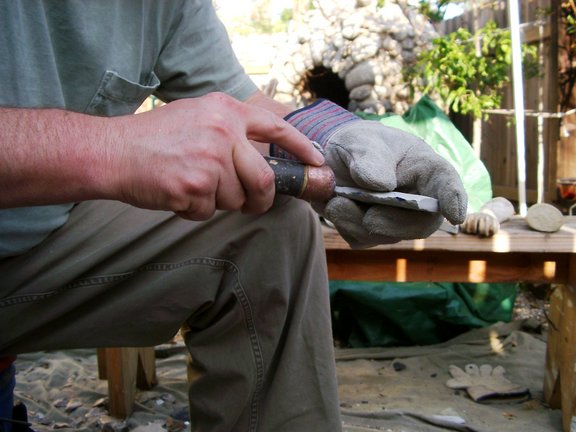 Here's face #1 after my first pass of flakes. I took 4 flakes from the face (the top of the piece). Notice how I spread them out a bit.
Notice also that I kind of screwed up a bit, and didn't get these flakes to run very far. No problem though, because the initial flakes into a flat area like that don't usually run very far. Flakes like to travel along ridges. Flakes running into flat areas are like a stream emptying onto flat ground - they slow down and spread out. Flakes traveling along ridges are like water flowing through a ravine, they run fast and far. Each one of those flakes created two ridges each. My next series will have ridges to run!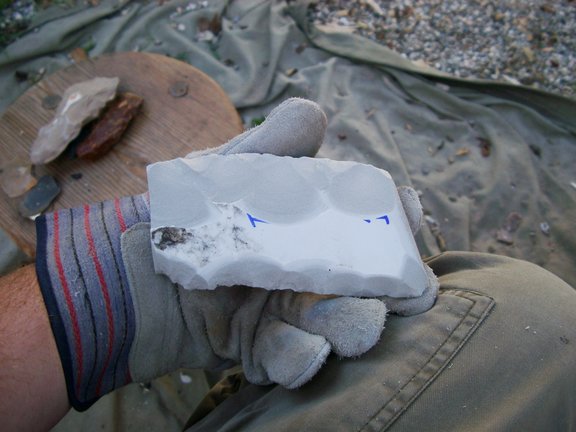 temporary stop - dinner time!