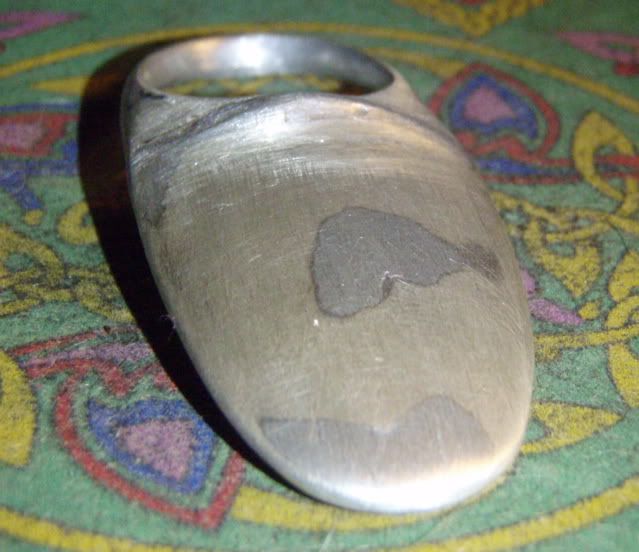 The other day I had a spoon in my pocket and it felt just like one one my thumb rings so I thought why not
make a thumb ring from a spoon. I chose a sterling silver spoon that was big enough to hold one of my
horn thumb rings. After drilling a half inch hole I rat tail filed it out oval. I keep the size smaller than would fit
so I could hammer out the band on a steel mandrel. Now I'm not a silver smith but as kids back in the 60s
we would take a silver quarter holding it between thumb and index and take a heavy spoon and whack on the edge for hours till the edge widened out to a nice band then we would drill out the middle to make a ring.
I took my angle grinder to shape the sides before pounding out the band on a mandrel. When I got the band wide enough and fitting nicely I brushed soft silver solder[ lead free ] on the now thumb ring making the tip thicker on the inside and putting a string stop on with solder on the outside. You could make a thumb ring
out of stainless but making a band would be harder and thickening the tip with soft silver solder wouldn't work. Epoxy putty would be an option. cheers fiddler49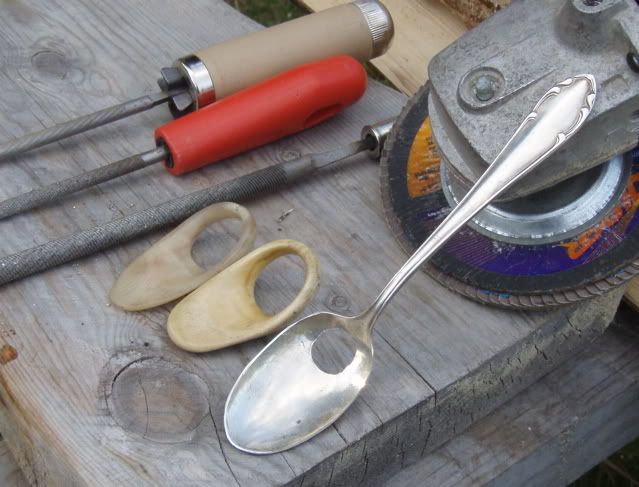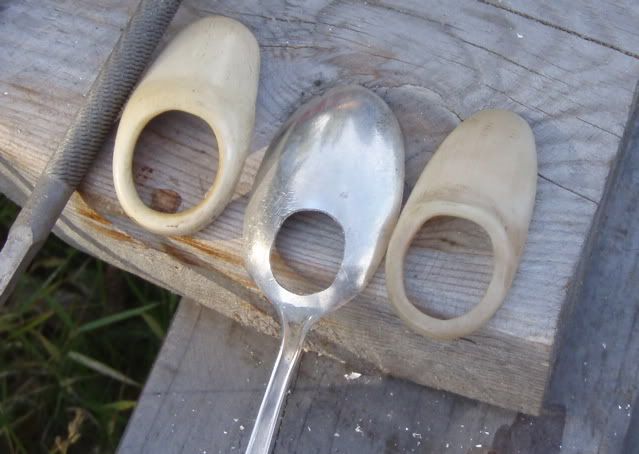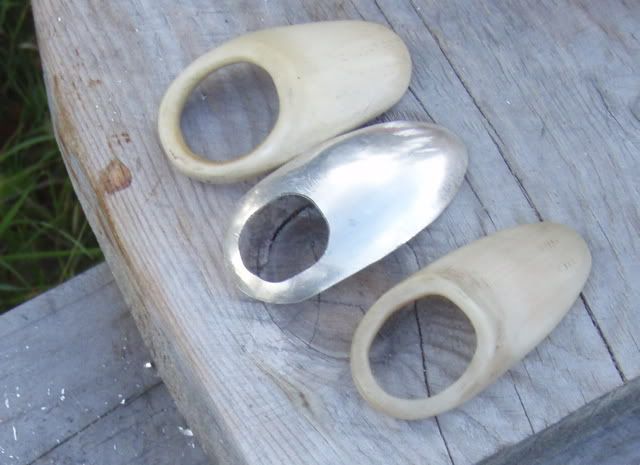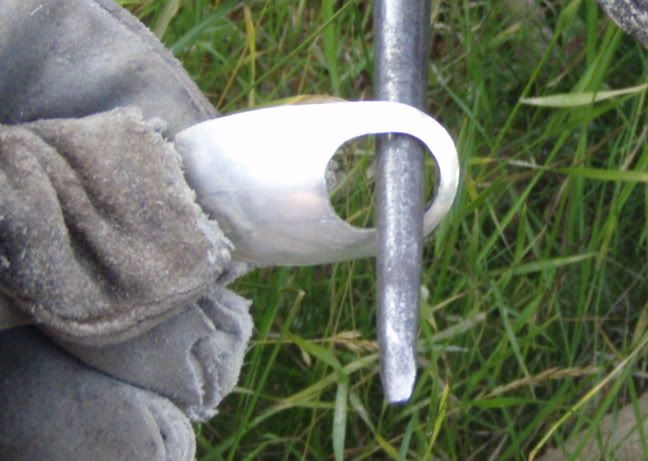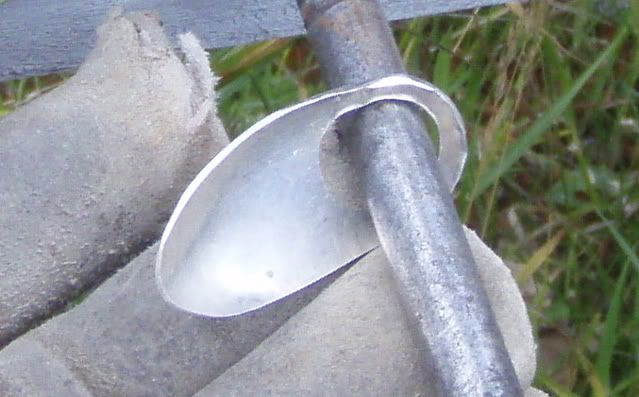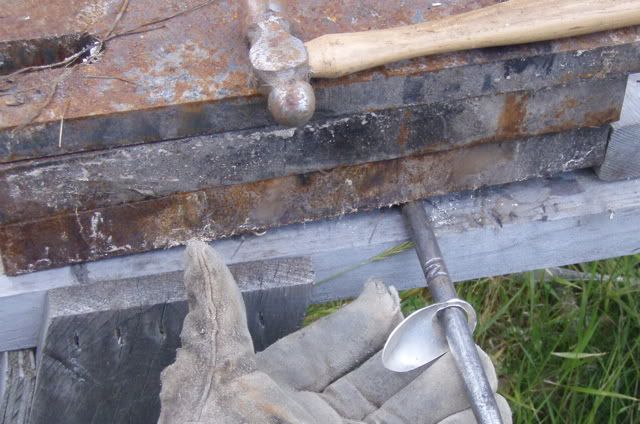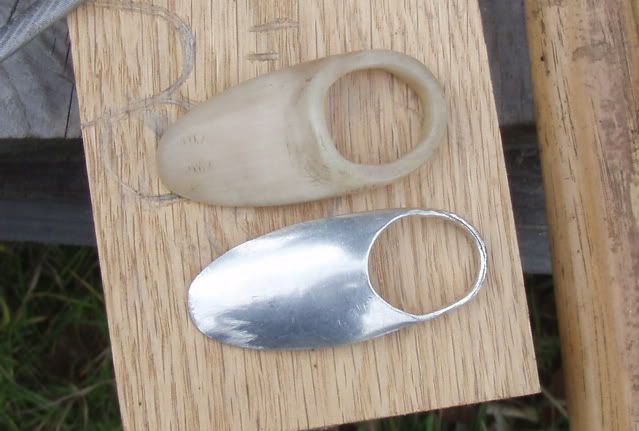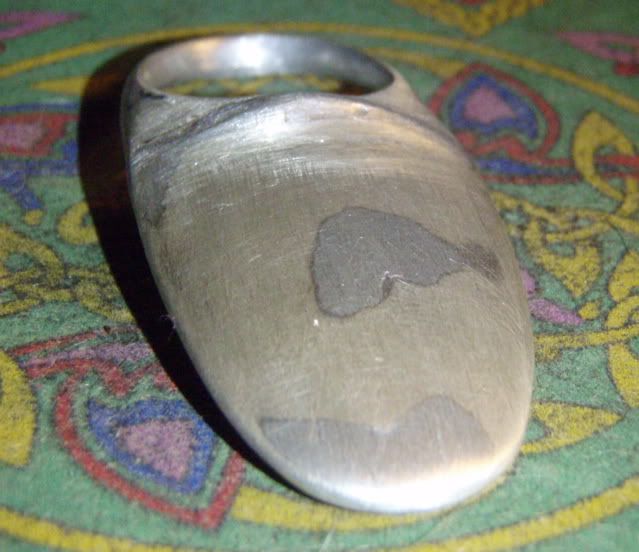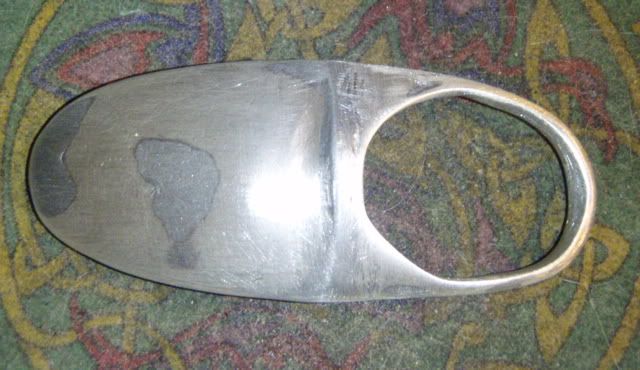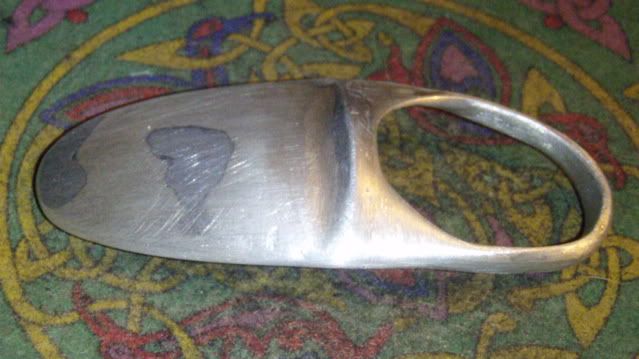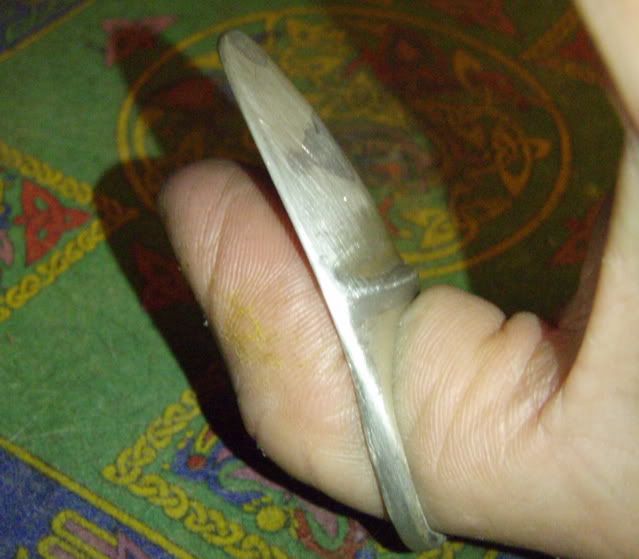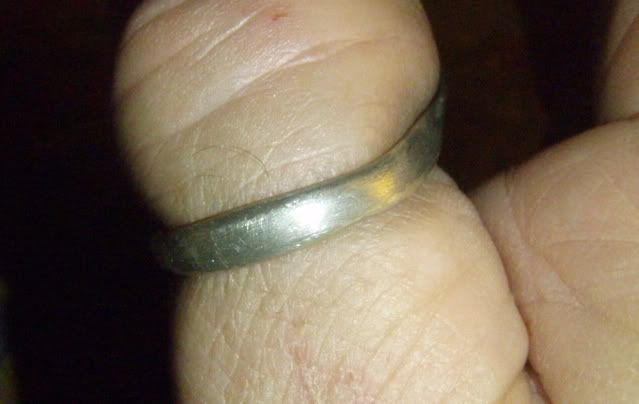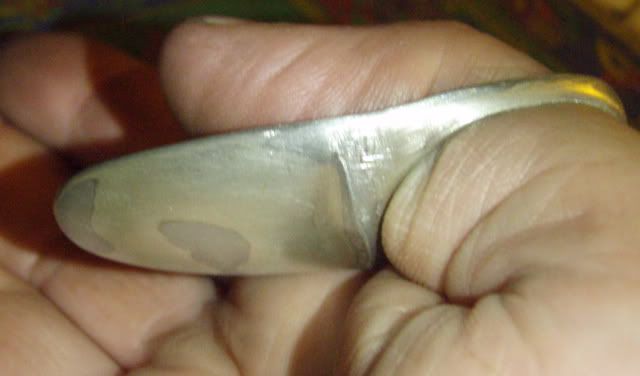 The tab on a thumb ring is a second class lever and it makes holding heavy bows easier plus I use a loop
of cord under string nock which eliminates string twist so I can shoot off either side of bow. I used to use a shorter tab but found that longer tab is much more secure and comfortable and just as accurate shooting when using a string loop.
cheers fiddler49
Copper would work just dandy. I would coat it after with soft silver solder, the lead free stuff, to keep it from
oxidizing. I'm a plumber and I can think of lots of copper fittings that have the concave inner surface like
45 degree elbows so you wouldn't have to hammer too much. If the metal is fairly thin you will need to thicken
up the tip of the spur with soft silver solder so it doesn't hurt your second finger joint while shooting.
The spur should should be wide enough to protect the sides of your thumb from the string loop and an 1/8 to
1/4 inch longer than the tip of the thumb while its under a load. It's best to start longer and shorten up as needed. The basic shape of the ring looks like a visor. Always slide thumb ring tight up against your thumb joint before each shot or you might bruise the back of your thumb. I anchor right under my jaw. Shooting
with a thumb release is really a joy. I can hold my 74 lb long bow at full draw longer than most people can hold their breath not that you need too but it is very, very comfortable to hold and shoot. The release is just like flipping a quarter with your thumb. cheers fiddler49