Okay folks, this is just the way I do it. I am in no way a professional foundry guy, or even a jewelery maker. Disclaimers aside, it's a really easy way to make easily machined simple molds that you can cast in, and don't even have to do a pour (melt directly into the mold). I bought my graphite as scrap from some guy selling blocks of it on eBay. The pieces are about 6"x6"x1" or so, and I got about 6 of them for somewhere around $25 or so total a few years back. The metal doesn't stick to the mold, you can use flux in them if you want, and they last for about 15-20 castings or so before wall thickness starts to become an issue. They're so easy to make that as soon as a mold starts to get a little wonky, I just make another one. If you're using silver or an alloy of it (I use a lot of shibuichi), this is a great way to reclaim the dust from grinding/filing and the little scraps from drilling etc...
The graphite and soft firebrick can be a little difficult to find, but in the worst case scenario are easily purchased online. Everything else you can usually get at a local hardware store.
So, here's how I do it:
1) Block of Graphite: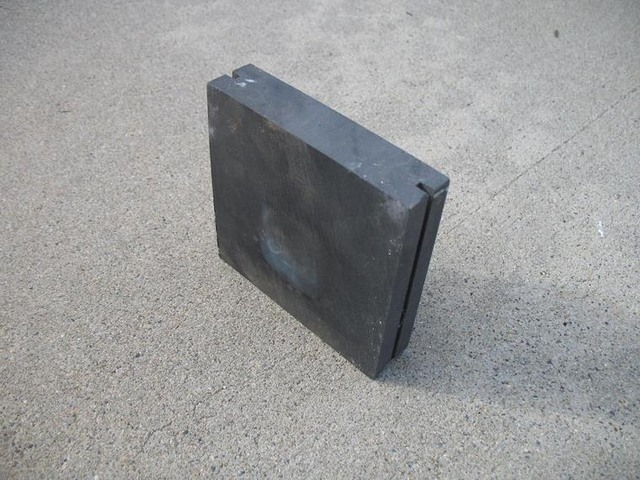 Pretty self explanatory.
2) My layout for the mold. In this case a simple ingot mold for reclaiming some scrap sterling silver. You can do pretty much any shape that you want, as long as the resulting metal shape can "fall" out of the opening. For more complex shapes you have to do a 2 or 3 part mold, which this tutorial won't cover.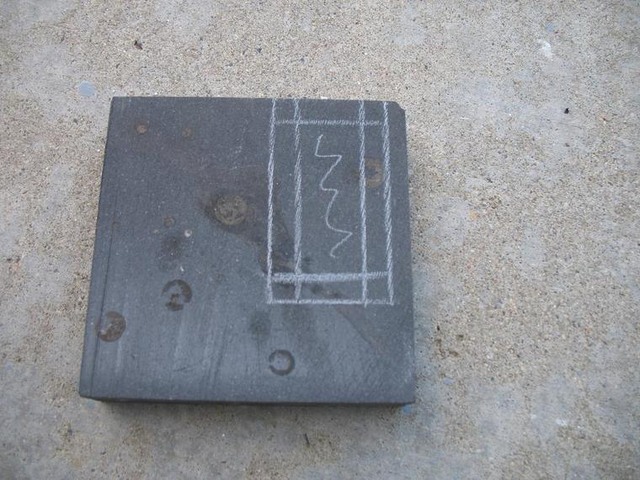 3) Graphite cuts really easily with pretty much anything. I use my bandsaw, but I've used a hacksaw before. A wood saw would even work. Heck, you could probably use a serrated steak knife if that's all you had (think consistency of soft soapstone).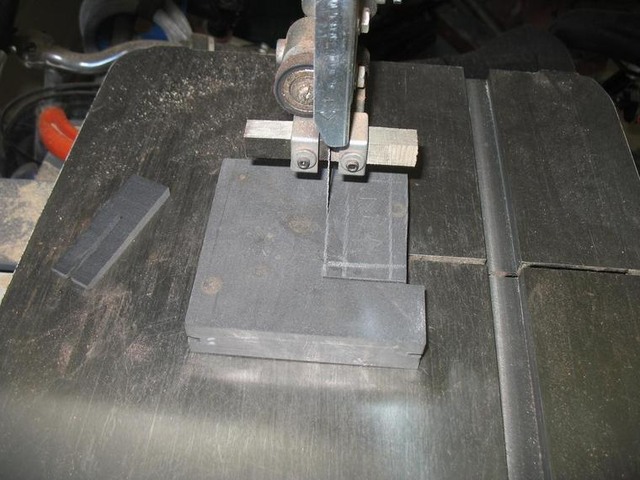 and no, the saw's not on while I'm taking the pic.
4) I "mill" my molds with a standard two edge router bit in my drill press. You could easily do this with a dremel tool, a router, or even a sharpened spoon if you've got a lot of time.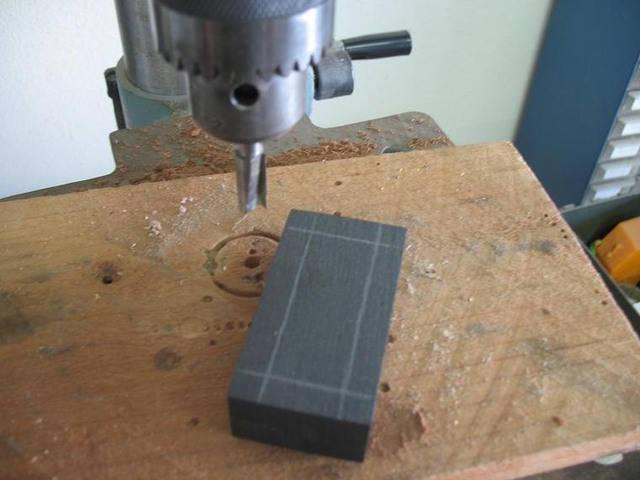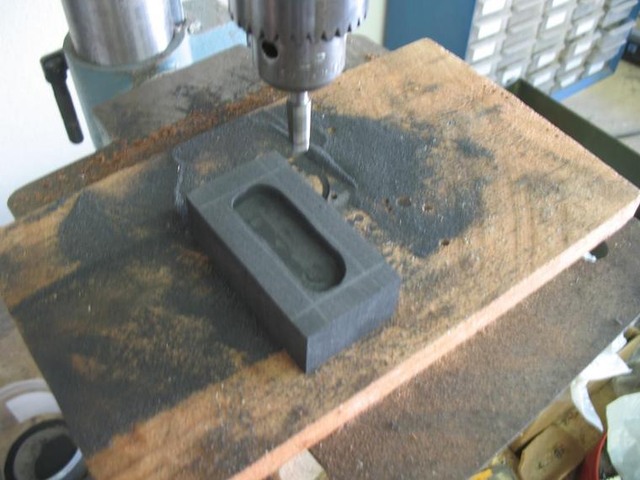 The one suggestion I would have, is that since you're likely to be holding this mold with your hands, mill the slot out in several "partial depth" runs. Graphite machines like a dream, but trying to do it full depth without a real mill is asking for it to jump around your shop.
5) Post-Milling: At this point the walls of the mold are 90 degrees to the bottom. Great for guards etc... if it weren't darn near impossible to remove the resulting ingot from the mold. Solution: you make the angle from wall to bottom a bit bigger. I use a file, a knife, a random chunk of metal, or whatever's on hand to take a bit of material off the walls to "open" it up a bit.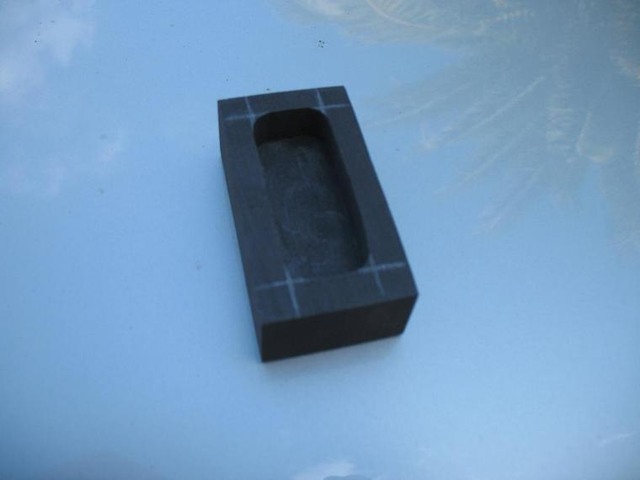 Sorry for the bad pics, but hopefully you can see that the base to wall angle is really sharp.
and here's one with the wall angle opened up a bit: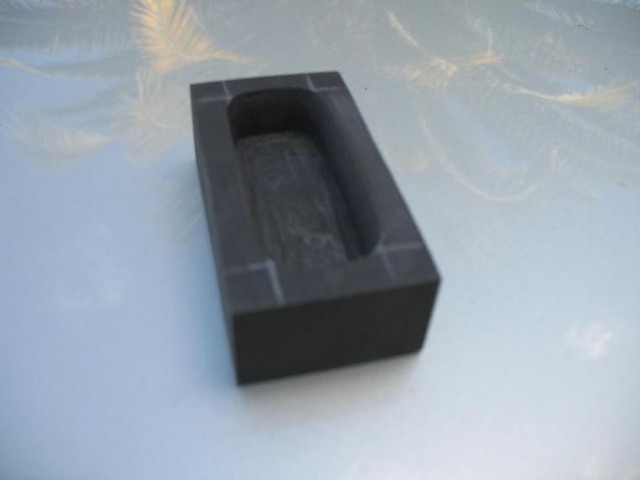 it's only about 10 degrees or so, but it makes all of the difference when you're trying to retrieve your metal, especially if there's flux crusting up the mold.
6) Here's a pic of my "mini-foundry". I made this out of 1 1/2 soft firebricks because I didn't want copper, brass, etc... in my forge.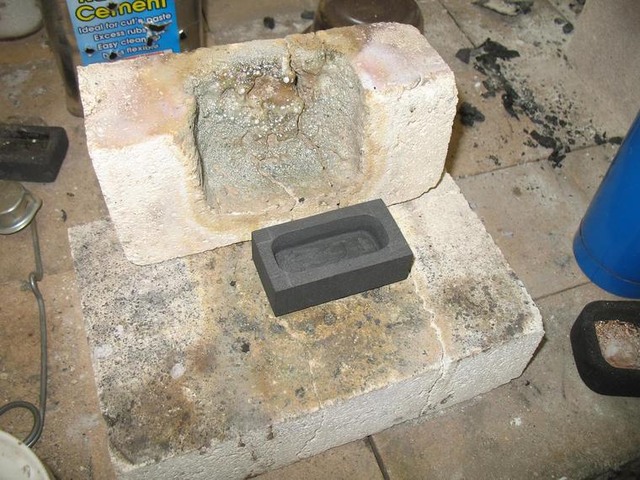 7) And for heat, I just use two standard "plumber's brazing" tip propane torches. You can do small amounts with one torch, two works better and allows you to do larger melts. MAPP gas works even better, but it's more expensive at the local hardware store, so...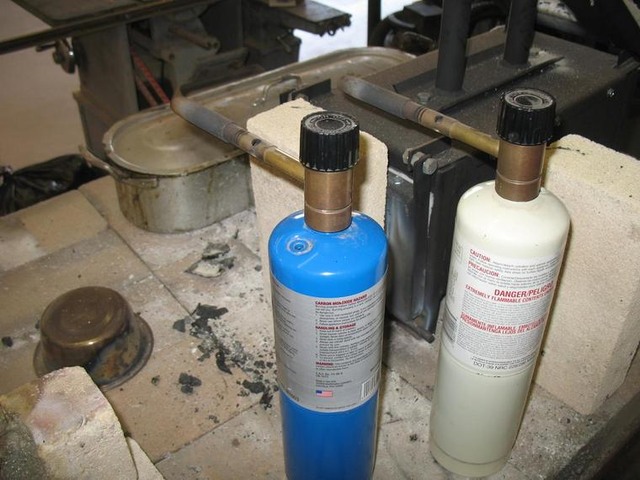 Here's a pic of some random broken jewelry, etc... that I'm reclaiming. This is scrap from my Dad's jewelry hobby, but I've bought scrap sterling cheap from pawn shops etc... before (they're usually more than happy to sell the smaller quantities of broken stuff to you at less than spot since it's usually not worth their bother to save up enough to sell it to a commercial refiner)[I usually offer a buck less than spot at pawn shops].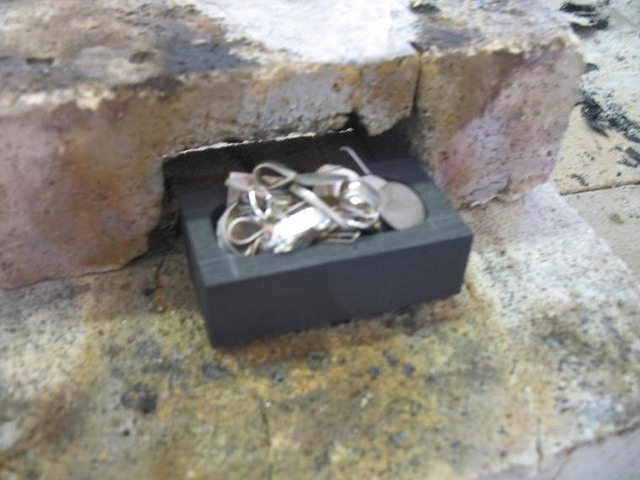 9) Since there's a lot of air space, I partially melt the charge, then add more. Repeat as necessary. At the loading of the last charge, I add some anhydrous borax flux to stop oxidation and get the metal to a nice "no contaminants" state.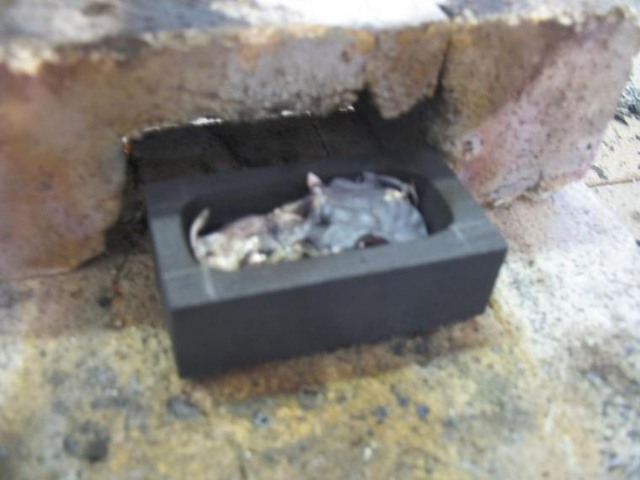 10) Apply heat: (and yes, I use two torches. Only one in this pic since I needed a hand for the camera)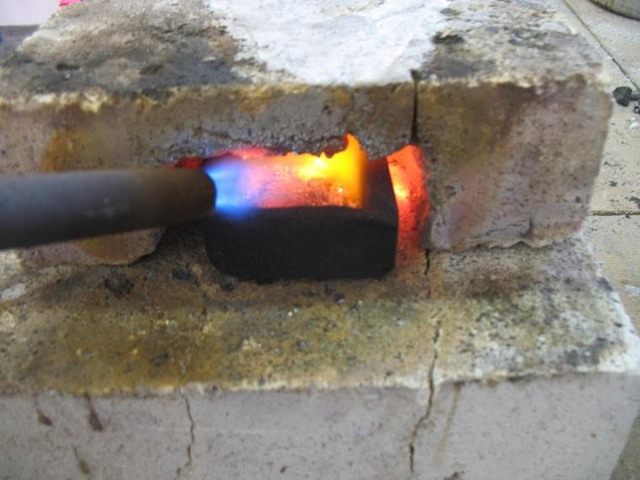 [and for the truly observant, that is indeed a different mold. I was reclaiming some shibuichi scrap today as well, and the pic turned out better]
11) Bubble bubble toil and trouble. Heat that bastard until your charge is shiny and liquid (and all the solids in the pool of molten metal are liquefied as well).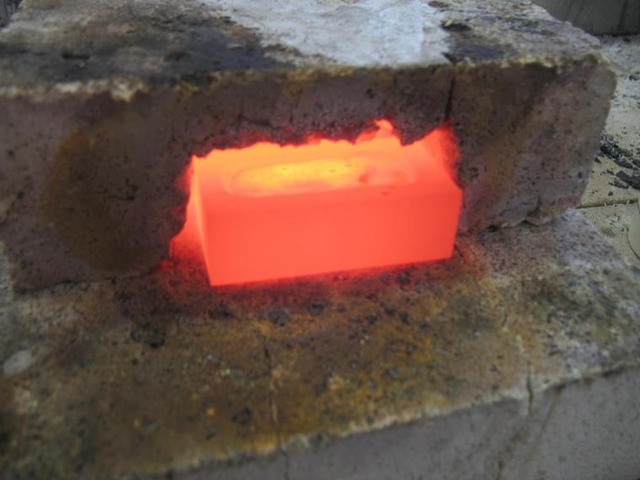 A word of caution at this point: If you add flux, and overheat the liquid, you can get some nice bubbling. I've never seen any metal "pop" out of the mold when liquid, but I have gotten some nice dimples in the back of ingots from gas pockets attached to the bottom of the mold. Only seems to happen with flux. If you're casting guards etc... you want to do your reclaiming/recycling in a separate step, so you can avoid using flux. I make ingots, then cut off whatever amount I'll need from the clean ingot, and pop that in a "guard" mold. No flux = no bubbles = nice clean guard blank.
12) When the metal has cooled to the point where it's solid, turn out the ingot. This way, if you're using flux, the flux is still molten even though the metal isn't, and the flux won't vitrify and lock your ingot in place in the mold.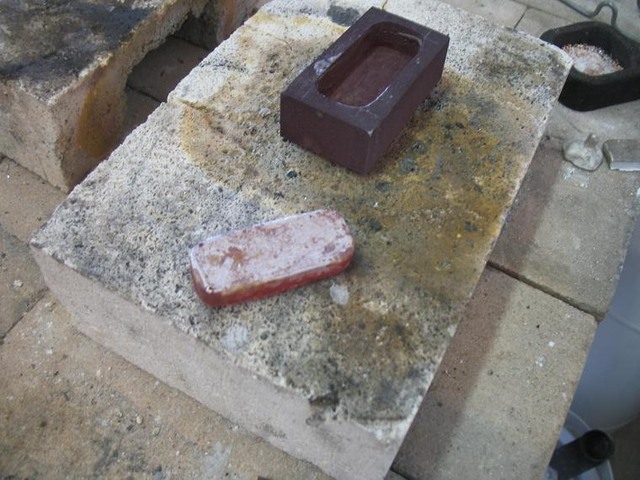 13) This is the "raw" ingot with flux and some oxides on the air exposed surface. It's pretty clean where it was in contact with the graphite (yay reducing atmosphere!)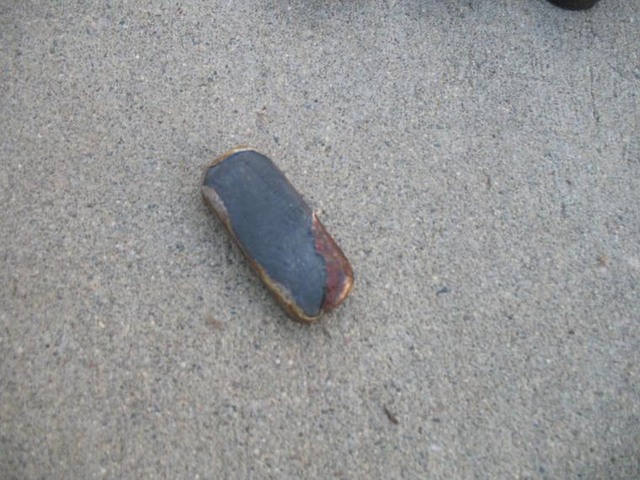 14) And this is the ingot after a few passes with the wire wheel on the grinder: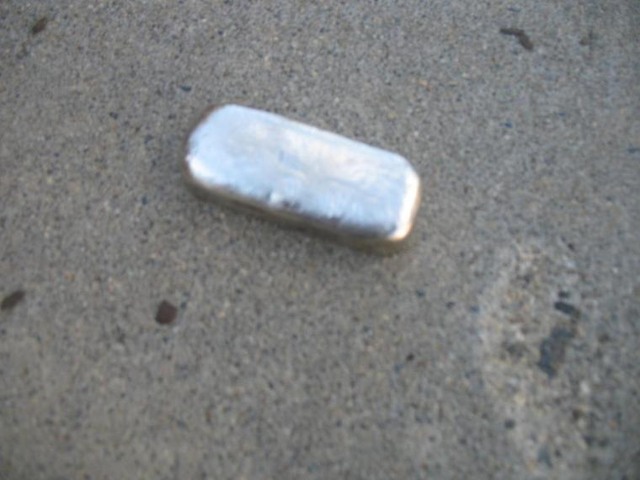 15) Here are some "guard" molds that I use regularly. These allow me to cast recycled metal roughly to shape and minimize waste. Like I mentioned before, for best results, you should use "clean" metal when casting your guards. Flux and impurities (if you don't wirebrush them off after making your ingots) will mean more clean-up that you don't need to hassle with.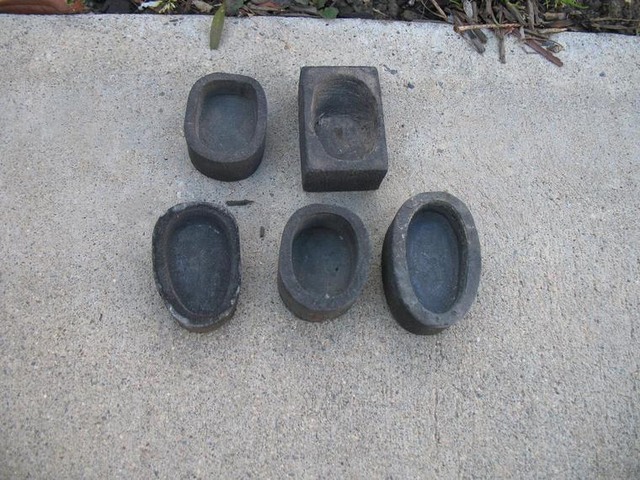 You can do whatever shapes etc... you want. I tend to do mostly ovals, but there's no reason you couldn't do a more interesting "keyhole" guard or the like, provided you can tip it out of the mold when it's cooling.
Another fun fact about graphite, is that you can take it orange hot, and shove it in your slack tub. After the violent hissing etc... your ingot or guard will fall out cooled and annealed. Let the mold dry out, and you're good to use it again.
And of course, goggles to protect your eyes (this is molten metal after all), and be careful with what you choose to cast. There are some metals (red brass is one I've been told), that offgas some pretty unfriendly things when molten. I've done silver, copper, brass, shibuichi, all with no problem.
Hope this helps someone out there.