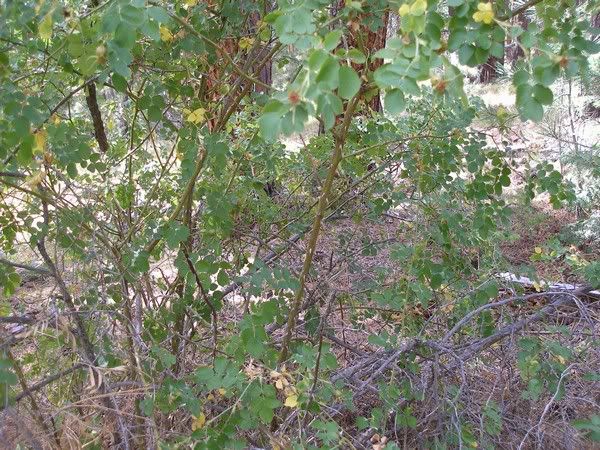 Wild Rose as it grows in my location, Eastern Oregon USA.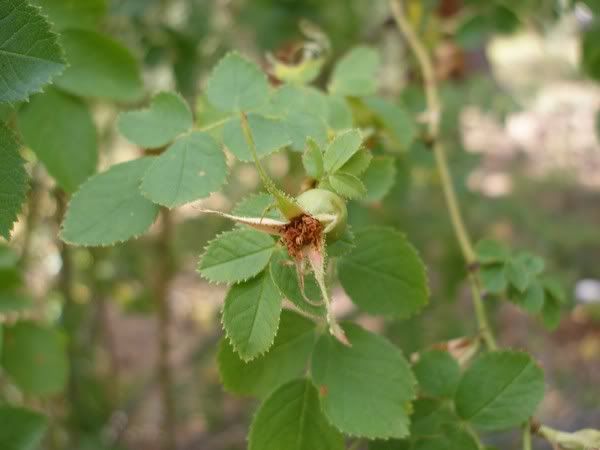 These pictures are taken in September.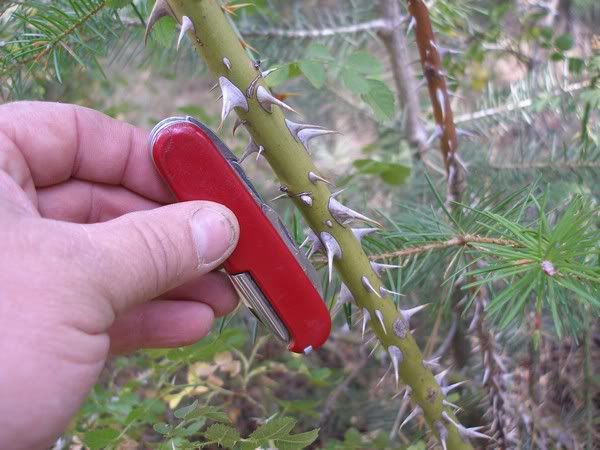 Pick a green rose shaft with an average thickness of abut 1/2 inch with the bark on.
Pick a good straight shoot that is at least two years old. First year growth tends to be weaker than second year growth.
This one has too much bend in it to straighten out.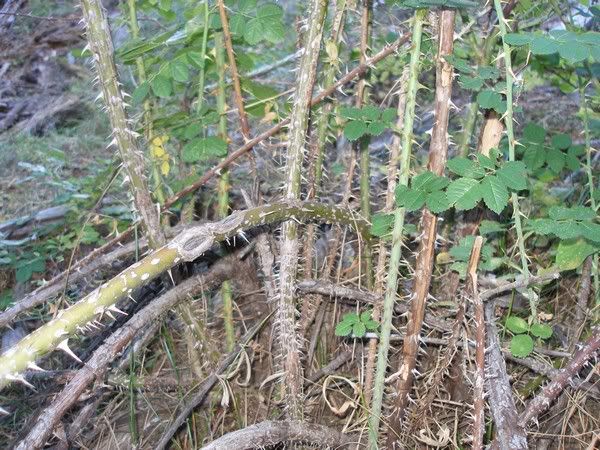 The blemishes on this shoot will not allow it to make a good arrow.
This one has too much curve in the base to get it straight.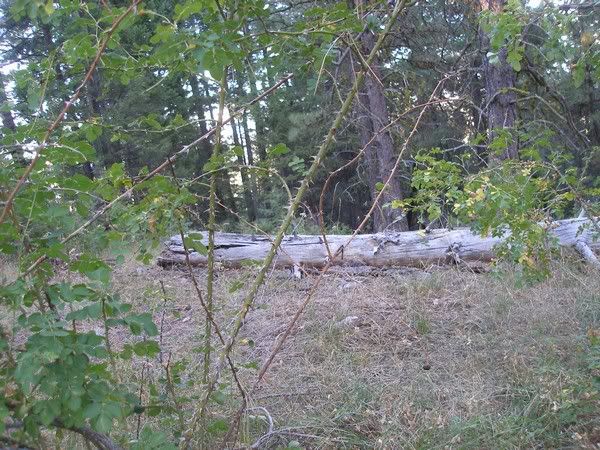 Here is a god long straight shoot!.
If you are cutting the shoot with a pocket knife, first scrape an area where you can grip it while it is still attached to the plant.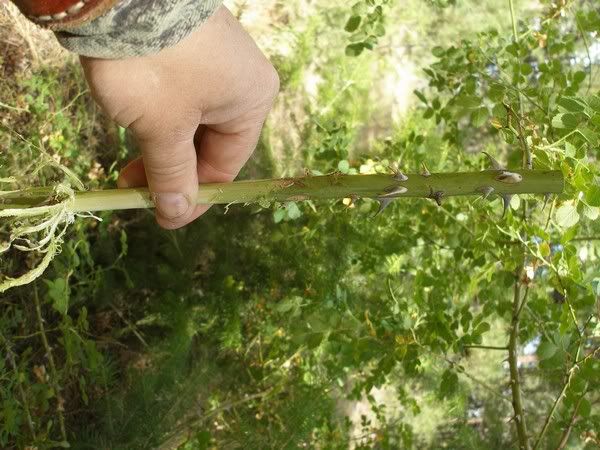 Then cut it off as low to the ground as you can. you want the fresh cut shafts to be as long and straight as they will allow. You will trim to length later.
Peel the rest of the bark so you can carry them.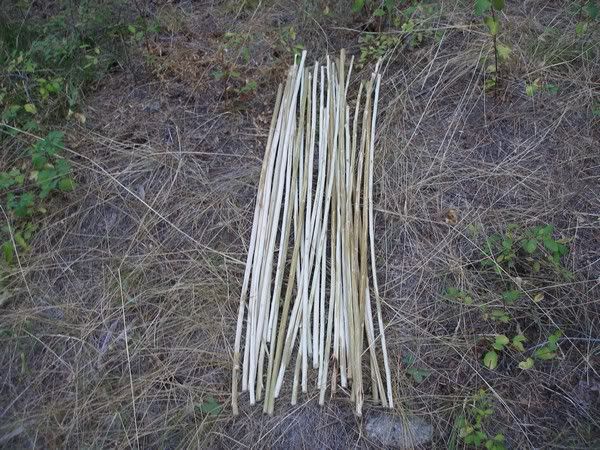 I gather many more shafts than what I need for arrows as I expect some will split, break or be too week in spine before I have a completed arrow.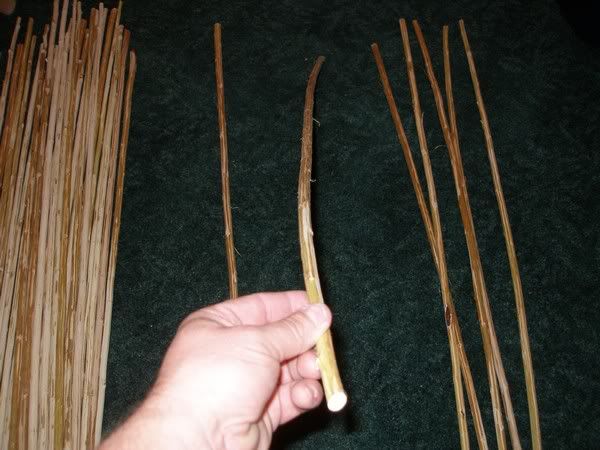 I straighten the shafts every other night for a week or so. I keep them in my house out of direct heat, but dry.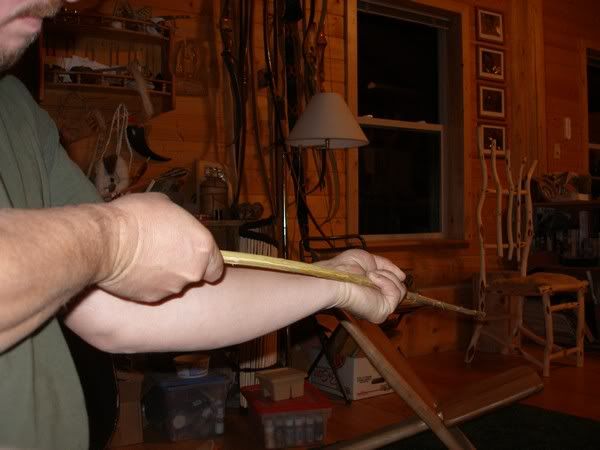 Bending the shaft across the heal of my palm to straighten them. they are weak and easily bent at this time. they will probably curve back to their original shape the first night but keep at it and make some progress each night. As the week goes by and they dry out they will straighten and keep the shape you want.
You may need to work on a kink with more force. I did break two shafts this way in the straightening stage.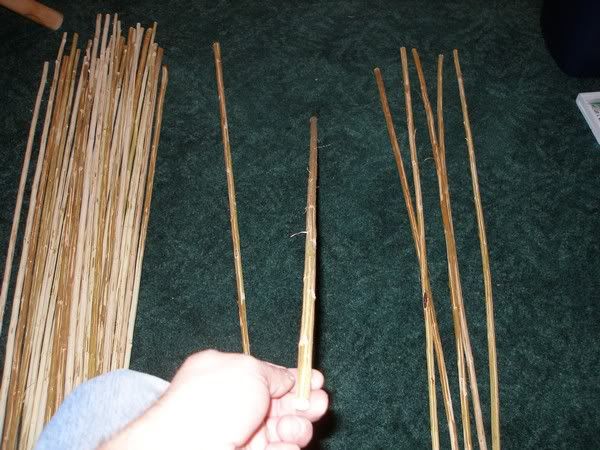 After straightening.
Bundled between straightening sessions.
When the shafts are dry and straight then scrape the rest of the cambium layer off. check for cracks and cut to length using the best part of each shaft. Usually the ends split a little but if you cut them long enough you will be trimming the splits off at this stage.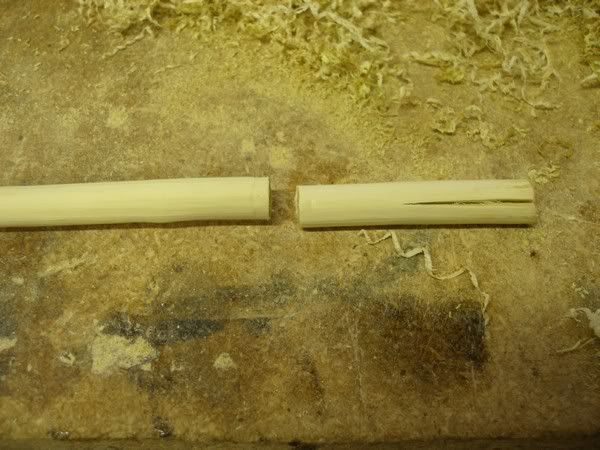 Knots are OK you will scrape or file them down flat and most will not weaken the shaft too much. lus they add character to your arrows!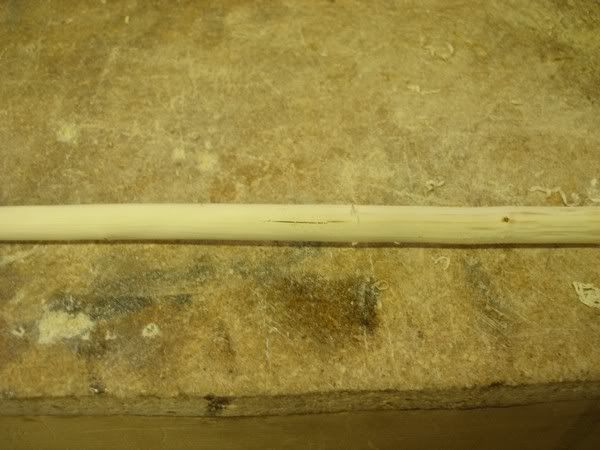 Here is a crack that was in the shaft I had missed when scraping. this shaft will be discarded.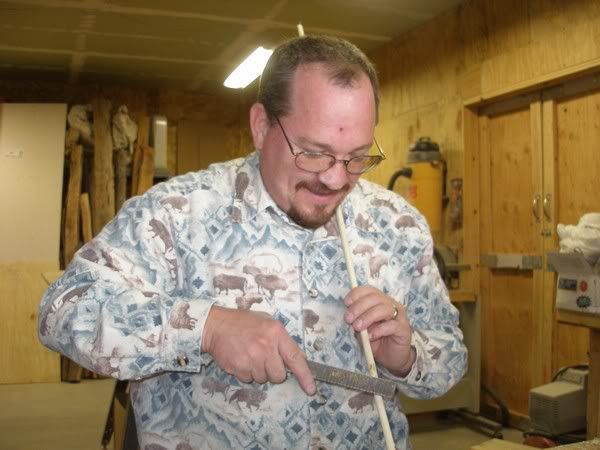 File down the knots and I even file high spots to try to straighten the shaft even more.
Checking the straightness as I go. I will sand the shaft with sand paper at this point.
Spining the shafts with my home made spine tester I made from the instructions right here on Paleo Planet!
I lost about 8 shafts or so as too weak for my hunting bows at this point. I saved them for lighter weight bows I make for kids or friends.
Creating the Knock end. I measure in 1/2" from the smallest diameter end of the shaft and make a mark.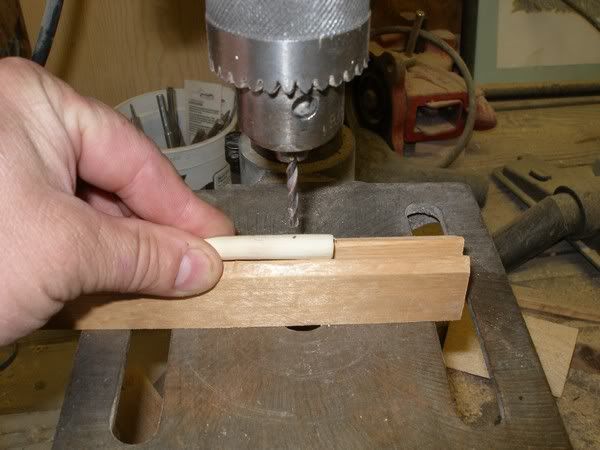 I carefully drill a hole through the center of the shaft. The hole is no bigger than the diameter of my bow string.
This whole process can be done primitively if you substitute scraping for sanding or filing and use a fine tipped hand drill for the drilling.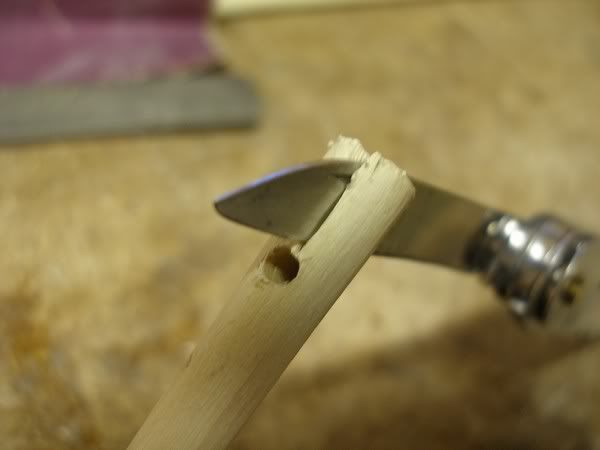 Next I split the shaft from the end down to the drilled hole. Be very careful to line up the tool to get a straight split across the shaft. I have ruined good shafts by splitting the knock too crooked or too off center so one side was thin and week. Try to make the splits a bit narrower than the hole diameter as it can always be widened later.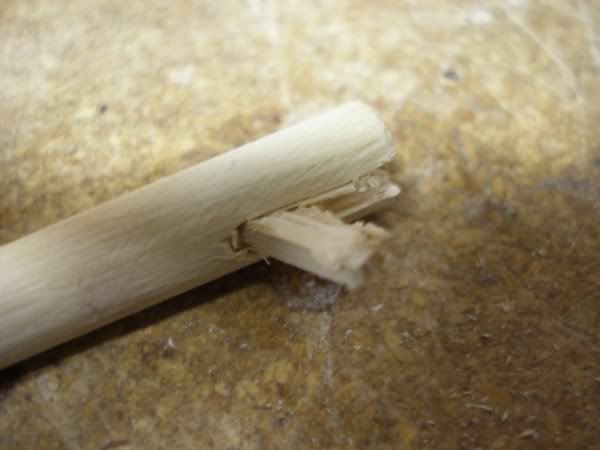 Break out the mid section.
Sand down the Knock. Here I am Using a winderfull trick shown to me by "Zanderpommo" in his cane arrow tutorial here on Paleo Planet!
The finished knock end.
Looking good!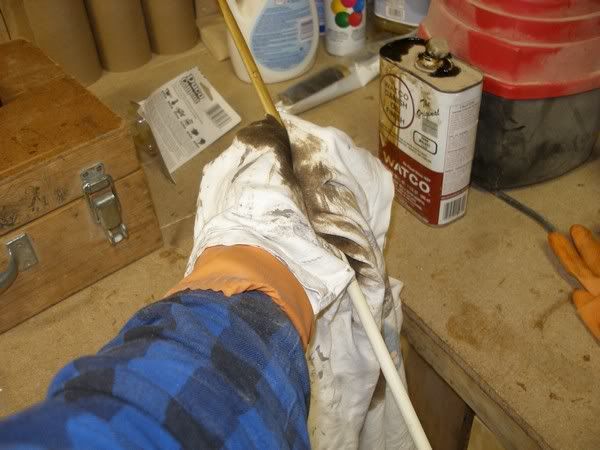 I stained the shafts at this point. I used the wood stain I had on the shaelf but natral stain will work or leave them white!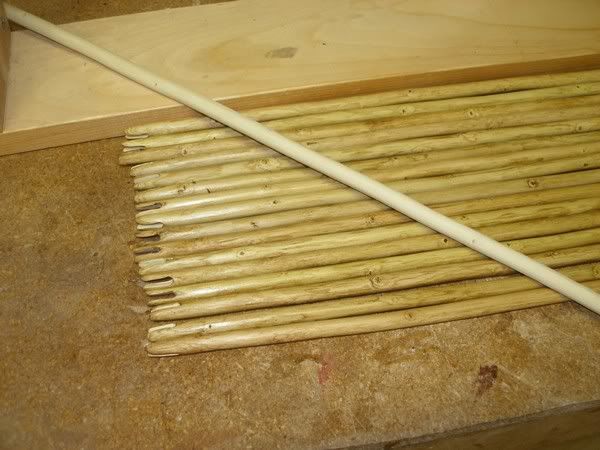 Comparison of one unstained to the rest of the already stained shafts.
Time for cresting. I use a little stand I made to hold the shaft and I turn it by hand. Natural shafts do not always spin as straight as commercial shaft so they don't work real well with power cresting machines. This way I can do more interesting paint jobs too.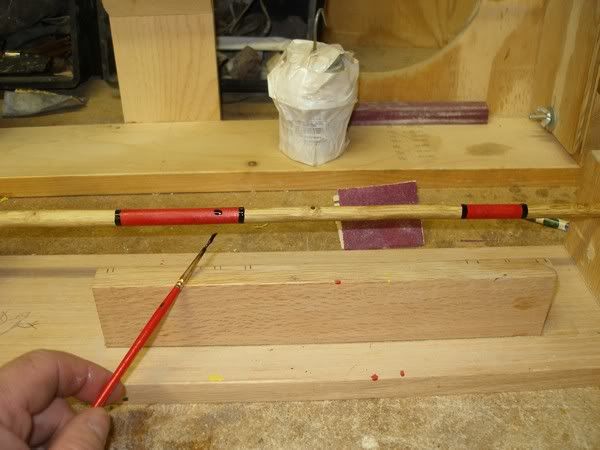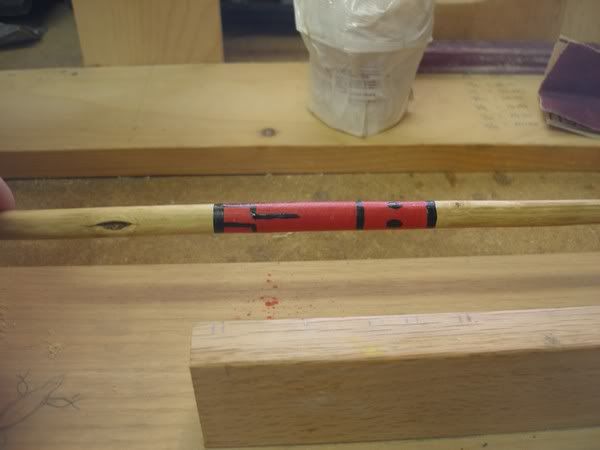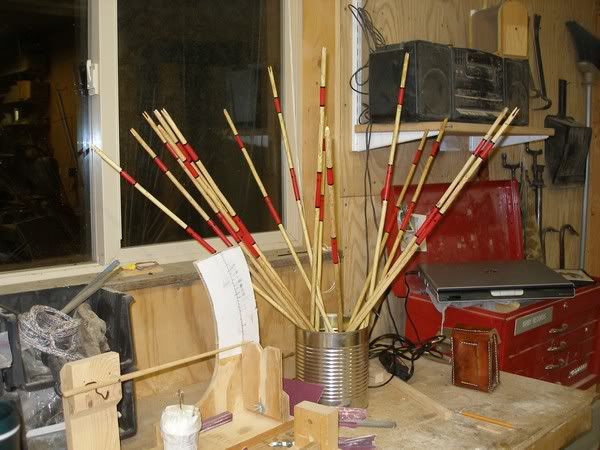 OK, Time to fletch these things.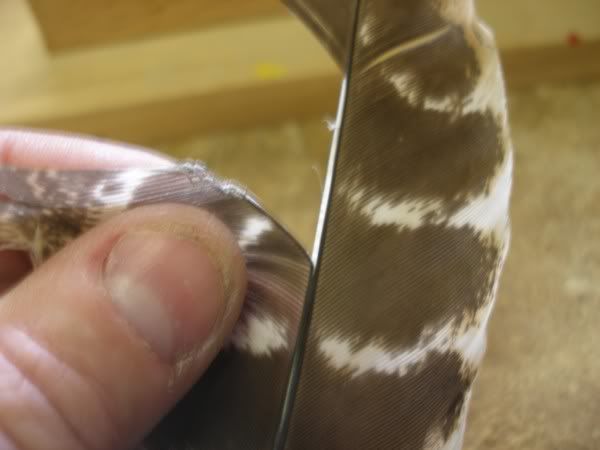 I peel the natural turkey feathers I get from turkey hunters who know I want their wings.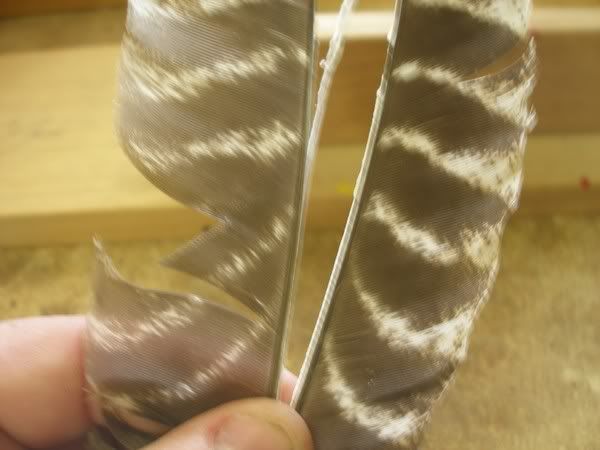 Both halves of a secondary feather can be used, just not on the same arrow. all the fletching on one arrow must have the shinny side of the feather on the same side.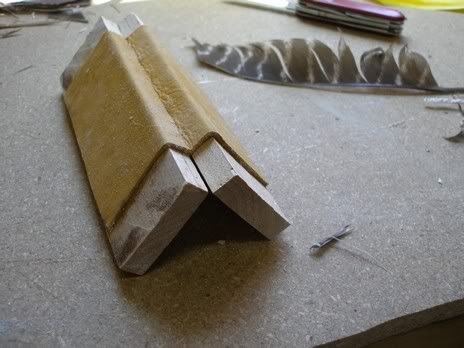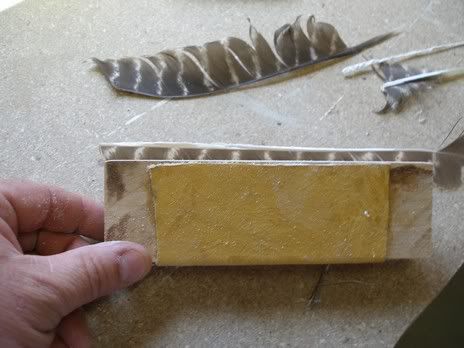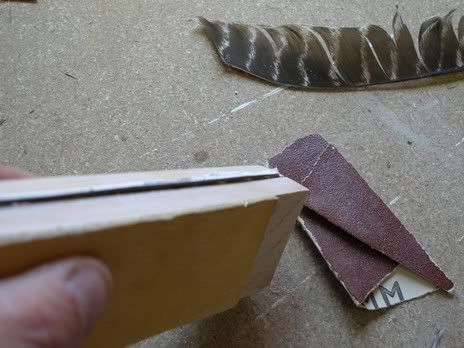 Finishing the trimmed flething base with a home made feather clamp.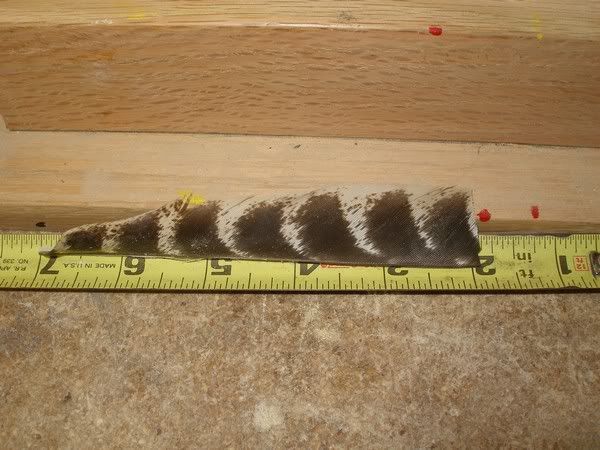 I use 5" Fletch. I get one per side of feather but if you like a shorter fletch like 4" you may get 2 per side on some feathers.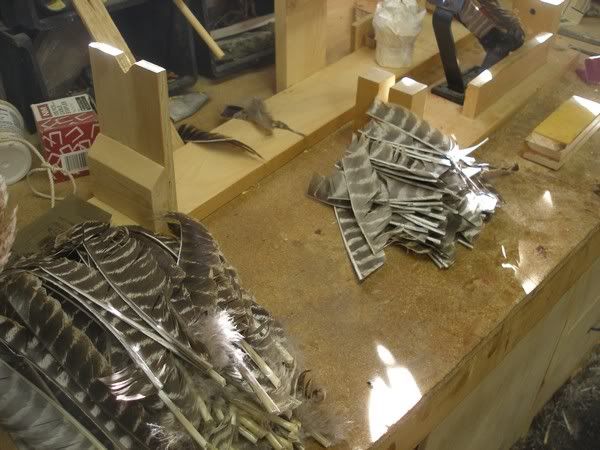 Gathering all one side for these arrows.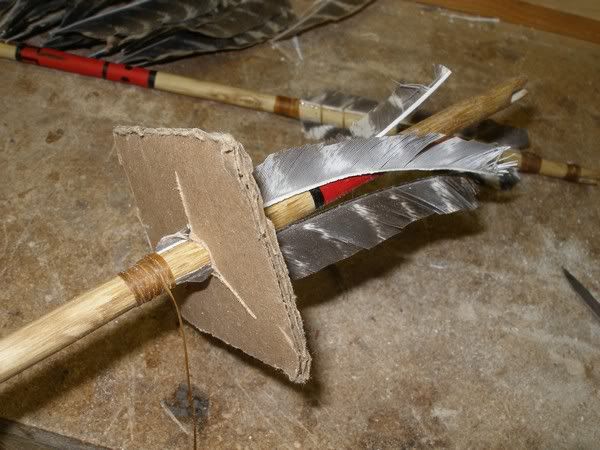 Staring the fleting process with a neat little primitive fletching jig as Shown on Paleo Planet by "Fiddler49"
I did one this way.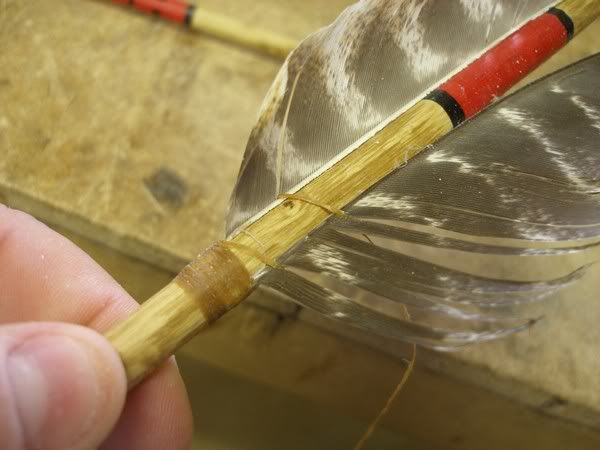 I tied one on without any jig too. Both worked but I resorted to my moder fleting jig and Duco glue for the majority of these shafts.
I trimmed the feathers with a pair of large blade scissors. I just free handed the cuts sighting down the shaft. I trimmed the trailing edges as a long trailing edge makes more noise, and these will be hunting arrows for next season.
I use artificial sinew split into 5 equal thicknesses. this gives me a strong piece to work with but thin enough no yo overpower the feathers. I also reinforce the knock with a little artificial sinew as well.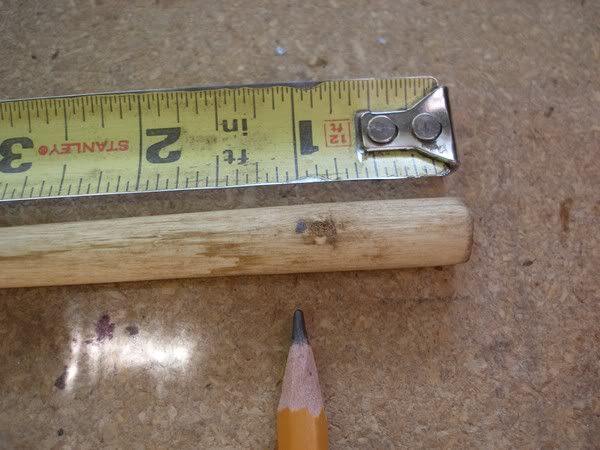 For the business end of the shaft I mark in 1" for my drilled hole.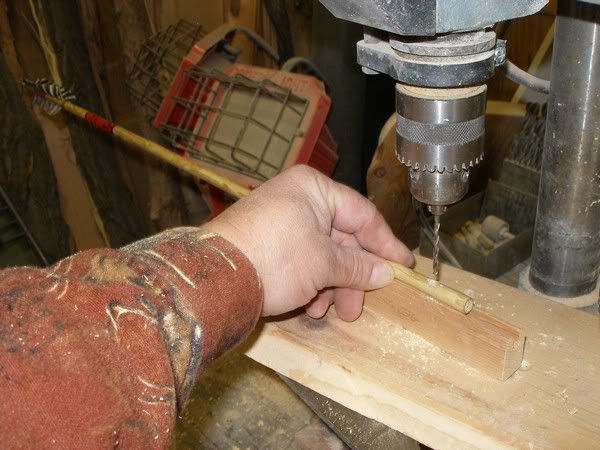 Like the knock end I carefully drill straight through the middle of the shaft. this bit is a little bigger than the knock end.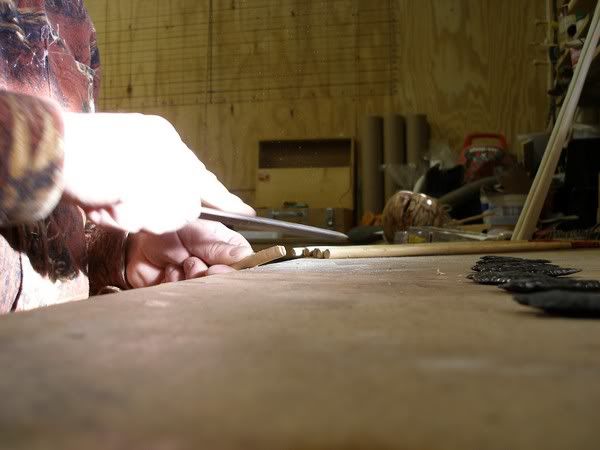 I file the end to a dull rounded point and carve out the inside of my notch to accomodate the specific point I will mount in it.
so lets make a point!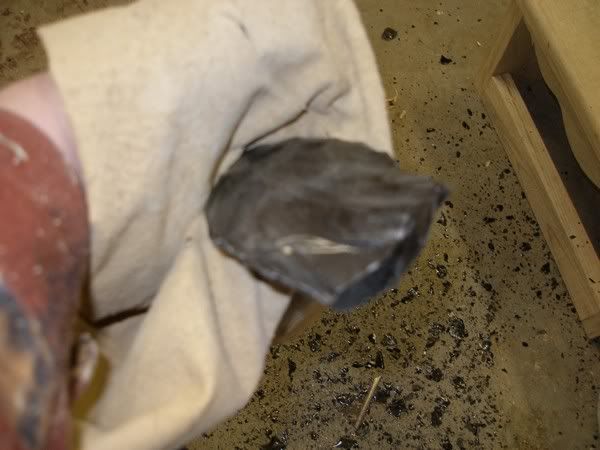 this piece of obsidian is big enough but a bit thick.
I start with some thinning while trying to keep the width and length.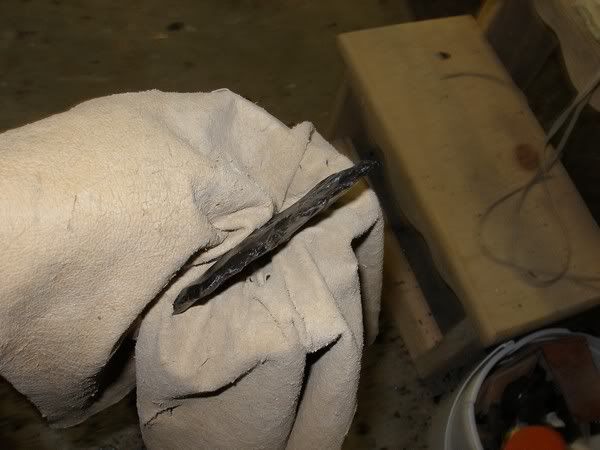 looking better.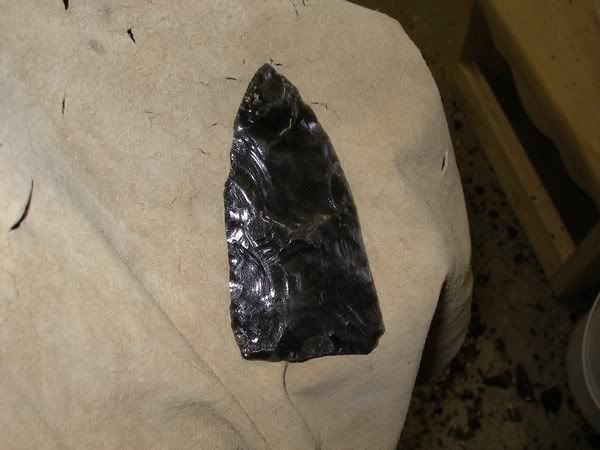 shaping and continuing to thin.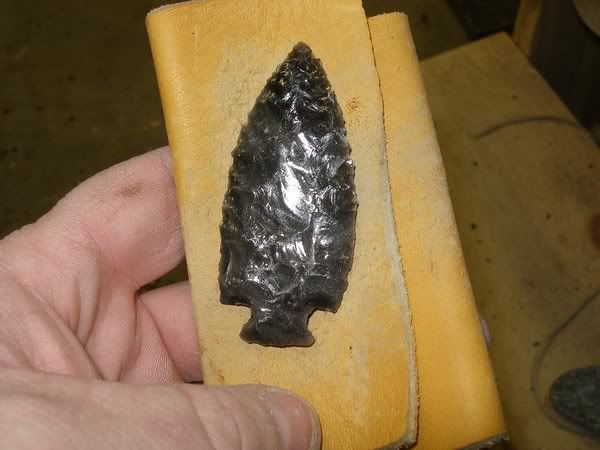 there we are ready to fit to a shaft.
looks like I need to file down the end and carve out the knotch a bit more to get it to sit straighter.
lets do another.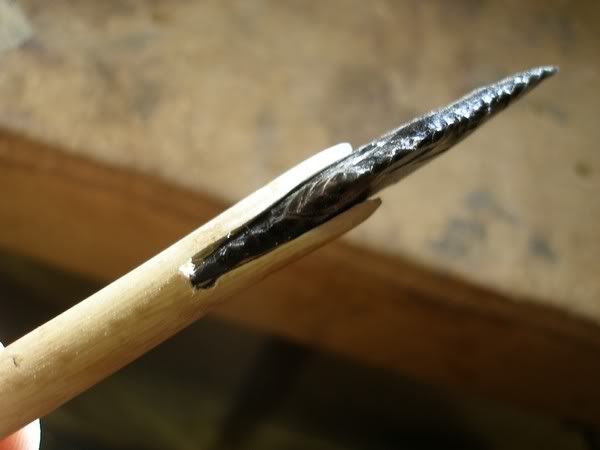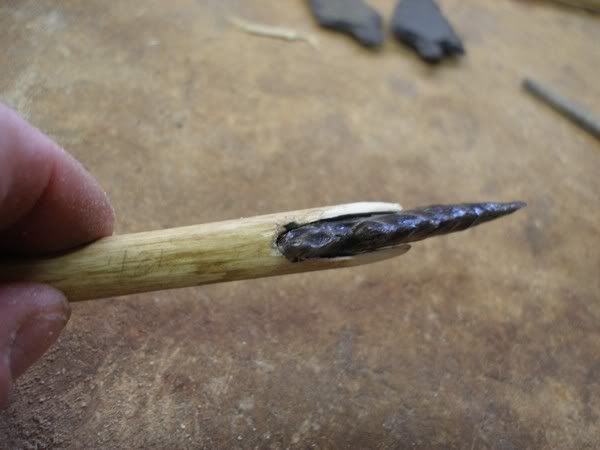 This one fits good right off the bat!
Ok, to make a few field tipped target arrows I use a set of vise grips and a drill bit to make a hand drill. I drill into the end f the shaft aprox. 1/2 to 3/4 of an inch. I carve a hardwood plug and fit it in the hole. then with 5 minute epoxy I glue in the plug. After it has dried a day or so to really harden I file it down to fit the taper in a field point. I glue the field point on with epoxy as well. I make sure to spin the shaft to get the tip on straight before it dries.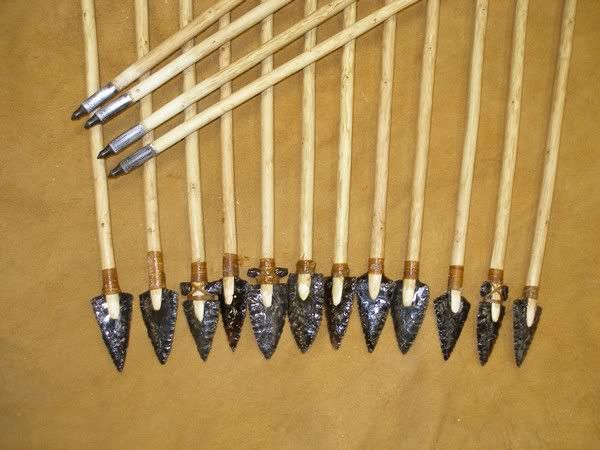 I seat each point, carving the notch to get it straight. I spin the shaft to check straightness with the point. Once i get the point to spin perfectly, I use 5min epoxy and tie on the point with artificial sinew. I spin and adjust the point to make sure it is spinning perfectly then set it aside for the glue to harden.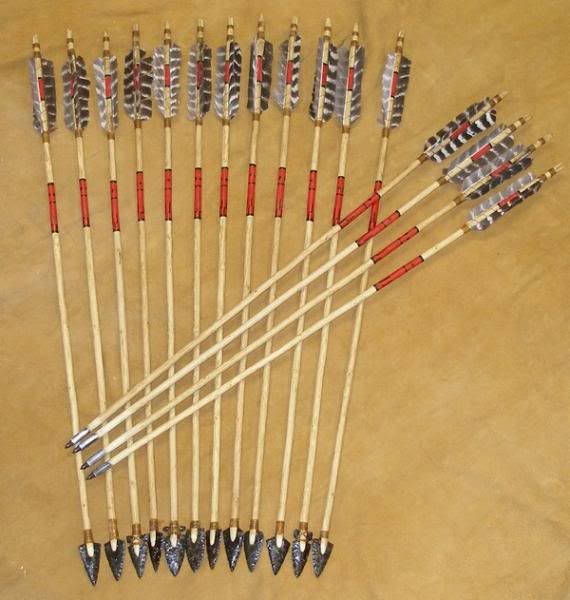 Next seasons hunting arrows are finished! Only took me 4 months.
(It won't take you that long if you work right along on them.)
Hope This helps somebody!
Kirby
Follow up Sept 2009
I shot this bull shot with one of these arrows. It was shot at 23yards and had at least 3/4 of the arrow in penetration with a 65lb Ipe/Bamboo self made bow. it ran about 80 yards before piling up.
Kirby