In another post I had mentioned ginseng and there was a question regarding it's identity. Here are a couple of pictures that I took of several ginseng plants last year. You often hear that this plant is endangered. I can tell you for a fact that there is a lot of it growing in my area. To gather it here, you need a license, and there is a season beginning in August I believe, when the berries are ripe. That enables you to plant the berries, so that the plants continue growing in that area. First year ginseng has just a single stem or prong as we call it here. As it matures, it branches out with more prongs; with a four prong plant typically being the fully mature plant; but I remember my grandfather finding one many years ago with more than four...cannot remember for sure how many. The plant grows from the same root each year, and if you dig the plant, you can count the number of past stems that are on the root top. I know I have more pictures somewhere, but this is all that I must have saved to Photobucket.
This plant is very easy to identify once you find a few, but to the beginner; it is sometimes confusing. I can remember hunting it with my father; sometime thinking I had spotted some, but it was perhaps Virginia Creeper or maybe a very small Hickory just beginning to grow. Once you catch on though, it just seems to "pop" out at you.
Harold
This is a two prong plant.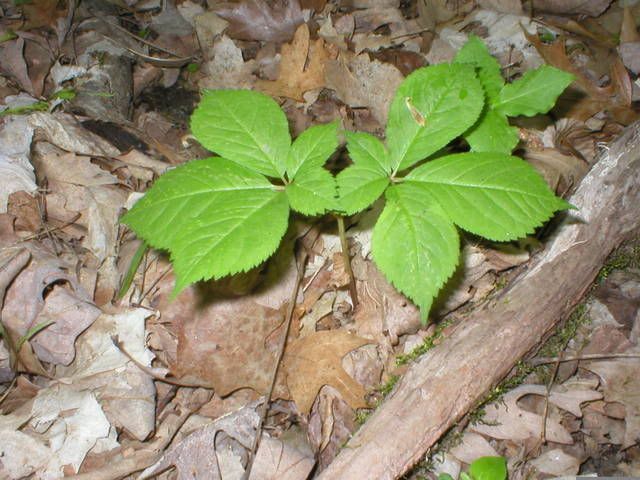 In the upper right in this picture is a three prong plant.