Hello everyone!  I'm a bit new to the site, but I thought I would put my face out there and let you know that i have all kinds of wonderful wild wonders for sale.
My name is Harmony and I live in Ennis, Montana.  I'm the skinner at the butcher shop here.  Last year I skinned around 500 animals, and this year I may do even more than that.  I myself am a brain and bark tanner, so I skin with the consciousness of someone who wants a perfect hide.   I pull the hides whenever I can, so there are little to no score marks, and usually very little meat and fat on them, except for on the monstrous mule bucks , when I usually have to use the blade to get the hide off.  These hides may have a little bit of meat around the neck.
All hides are graded, sorted, and salted the same day they come off the animal.  I only save deer hides, but if anyone is interested in either elk (bull or cow) hides, I can save them as well.
HIDES AVAILABLE $35.00 to 30.00/skin
mule bucks
white tail bucks
white tail does
antelope goats and does
elk bull and cows
the grading system is as follows:
"#1" hides have only bullet holes in them (usually two holes but sometimes only one)
"#2" hides have 2-3 holes in them
"#3" hides have more than three holes, but are still in decent shape (not slashed to shit, usually 4 holes)
#1 and #2 Hides are 35.00 a skin
#3 hides are 30.00
I also have premo elk backstrap sinew for sale for $10.00 a strip.  Cleaned and dried.  This is the extra long, wonderful stuff that lasts forever.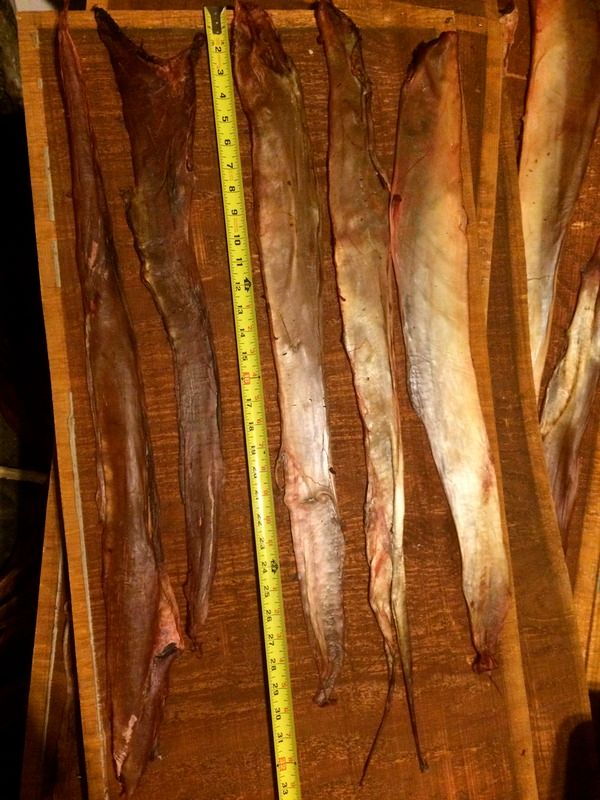 You pay shipping, or you can come to my place in Montana and pick em up.  You can contact me at [email protected]