While the large number of pictures is loading, you can read the following story. I recently collected some good ash and black locust staves. I'd like to share my adventure for wood with you.
In winter, I don't like to work on bows in my little unheated shed. It's just too cold and wet to comfortably work on bows for more than an hour on end. Instead, I usually make arrows indoors, do some leatherwork, chainmailling or harvest wood. Collecting good woods for upcoming seasons is especially a winter task for me. You never know when you need just that one wood species, or if you'll ever stumble upon that perfect log again in the future. In winter, when all the leaves are down, it's easier to see the individual trunks, without your view being obstructed by leaves. Another advantage is the fact that the sap is down in most trees, so the wood is relatively drier. While some people say this means the wood will dry quicker, I personally don't care. I wait long enough for my wood to dry anyway. However, I do think that naturally drier wood means less chance of splitting as the wood dries.
I have been keeping track on the cutting permits the municipality grants to inhabitants for a few years now. In my country, people need to get a permit if they wish to cut down a big tree, even if it's in their own yard. This legislation can be annoying sometimes, but it also allows me to see where trees will be cut soon, and what species. So far, I've had very little success with this method, but I kept looking for the announcements in the (online) newspapers nevertheless. About one month ago, I saw a large list of trees (about 60 pieces) being cut at one address. Many useless species include pine and spruce, but also two yew trees and a bunch of black locusts. So I took my bike at the end of the week, and I went to the address about 30 minutes away. It was easy to find, as there was a large piece of forest completely cut down! At least 100 trees were (being) cut. I even saw a treesurgeon company taking down one big Thuya tree. I looked around, and looked for useful trees and species. I found some worthless yew, and a lot of other crap. But then there was this great looking black locust! Really straight, free of knots, great ringcount. Just perfect in every aspect! I asked the man who was cutting those trees down if I could take a few small logs. This luckily wasn't a problem at all! So I actually had permission to take this wood! Now I really needed to take one or two staves of black locust, but how could I do that? I was on my bike after all! I could drag it into the bus maybe, or struggle to get one stave at home by bike. But there was so much black locust that it would be a shame to let it pass. So I needed to arrange a car. It didn't take me long to call Jorad. I knew he probably had a car, and he let me know he would like to use black locust. He also lives relatively close by. I told him the story, and we made an appointment for Sunday to go and get the wood. Jorad even brought in Francis as well, so that was even better!
Two days later, on a sunny Sunday, Jorad, Francis and I gathered at the site. We picked our logs, and started splitting. That's when pictures come in handy! Francis took most of the following pictures, or at least they're taken with his camera.
Here's what the site looked like. This is only a fraction of the trees that were being felled.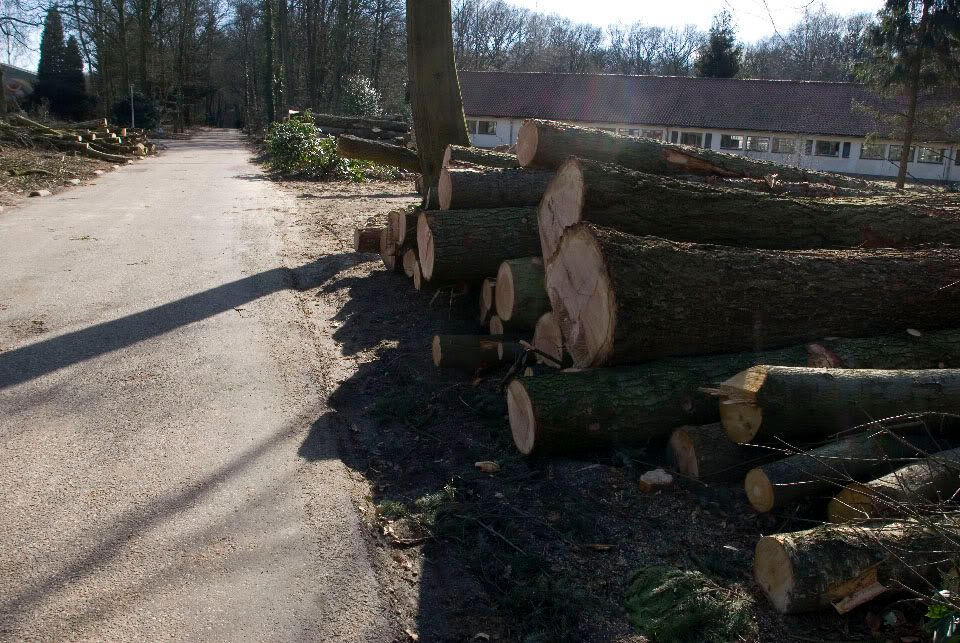 Me: "How about this one?"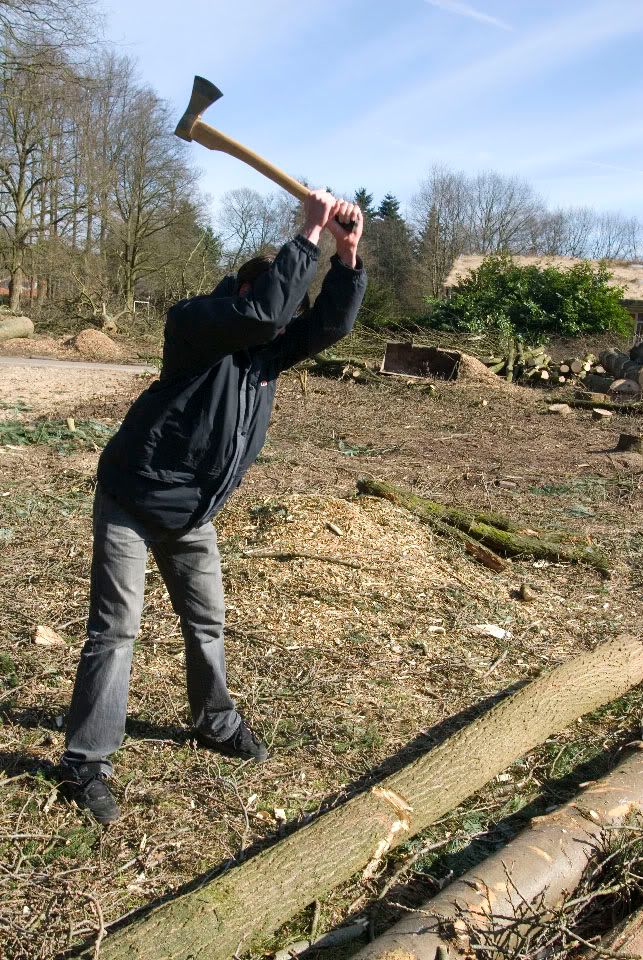 Because we forget to bring a good saw, we had to use the good ol' axe or a small foldable saw. Here Jorad's using the axe.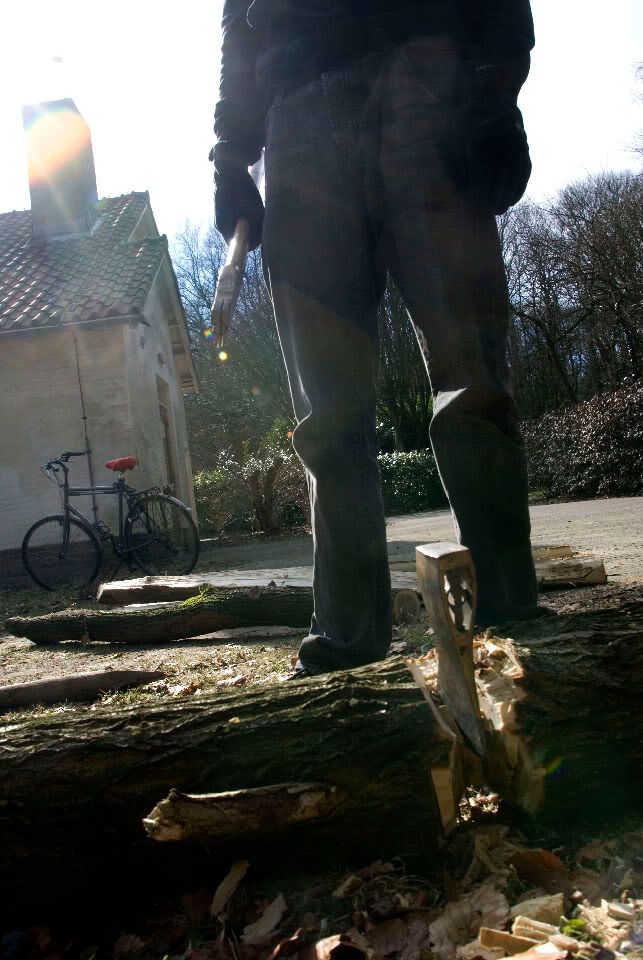 But not for long. The head of the cheap axe came off.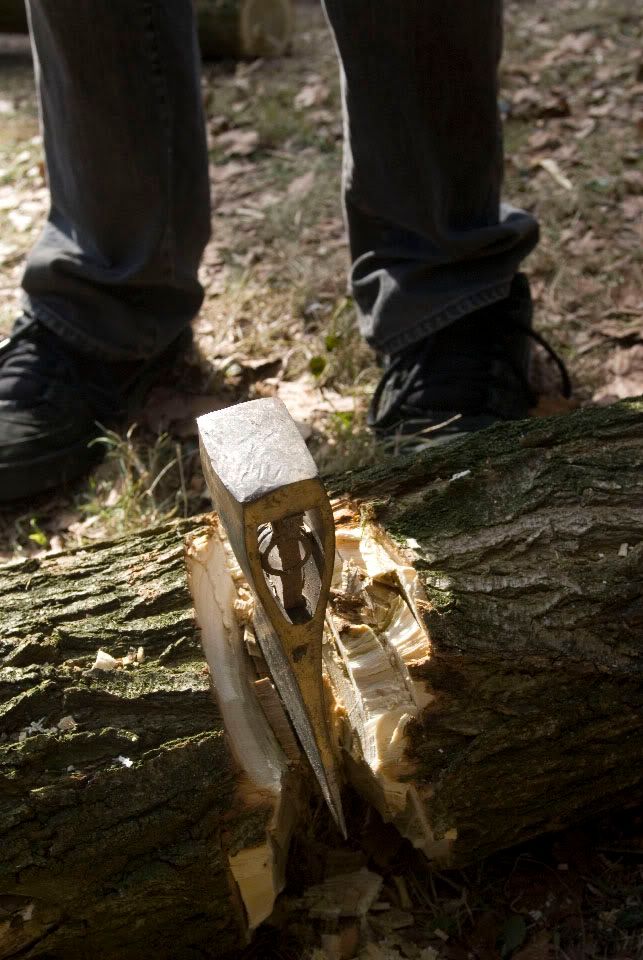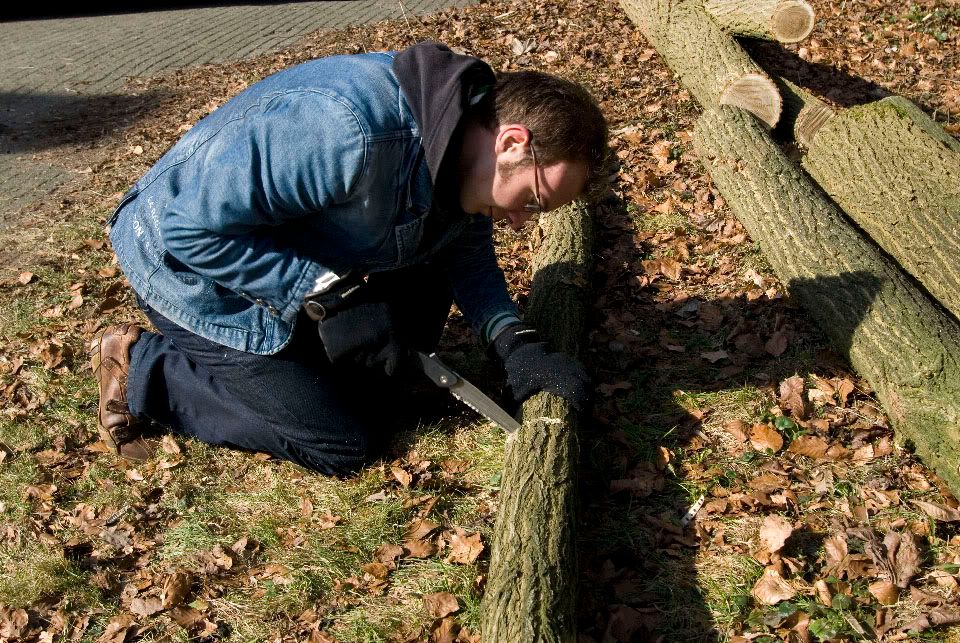 Here I'm cutting a smaller black locust log to length.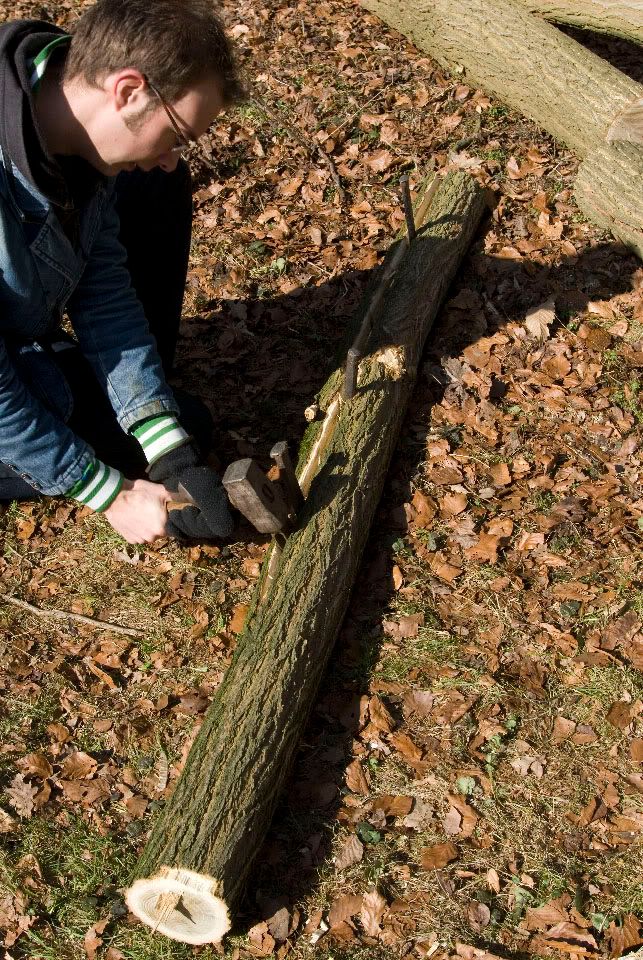 Next comes the splitting. This split was started from the middle, but I personally prefer starting from the end in this hard to split BL.
Splitting BL is really a pain in the @$$! A lot of stringers as you can see! Sometimes is goes relatively easy, but it's about as difficult as splitting elm I would say. This particular log had a few dead branches on one side, so we wanted to remove that half. Not easy.
So luckily Francis helped me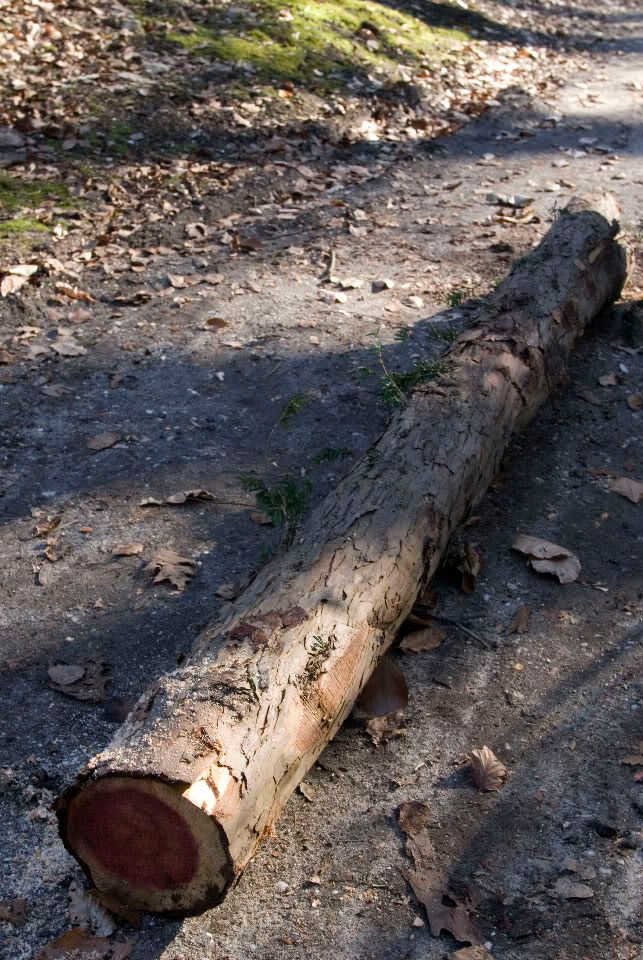 We even found some Yew (Taxus baccata)! It is not the best, but Francis and Jorad think they can salvage a bow or two from this log.
Here's the result of an afternoon's hard work! A car loaded with black locust (even one whole log, because we'd had enough of splitting) and two yew logs. Should be enough to make at least 15-20 bows or so! Still plenty of work to do. Sealing the ends, removing the bark AND sapwood if we like, and we could even split or bandsaw a few staves because some staves or big enough for several bows.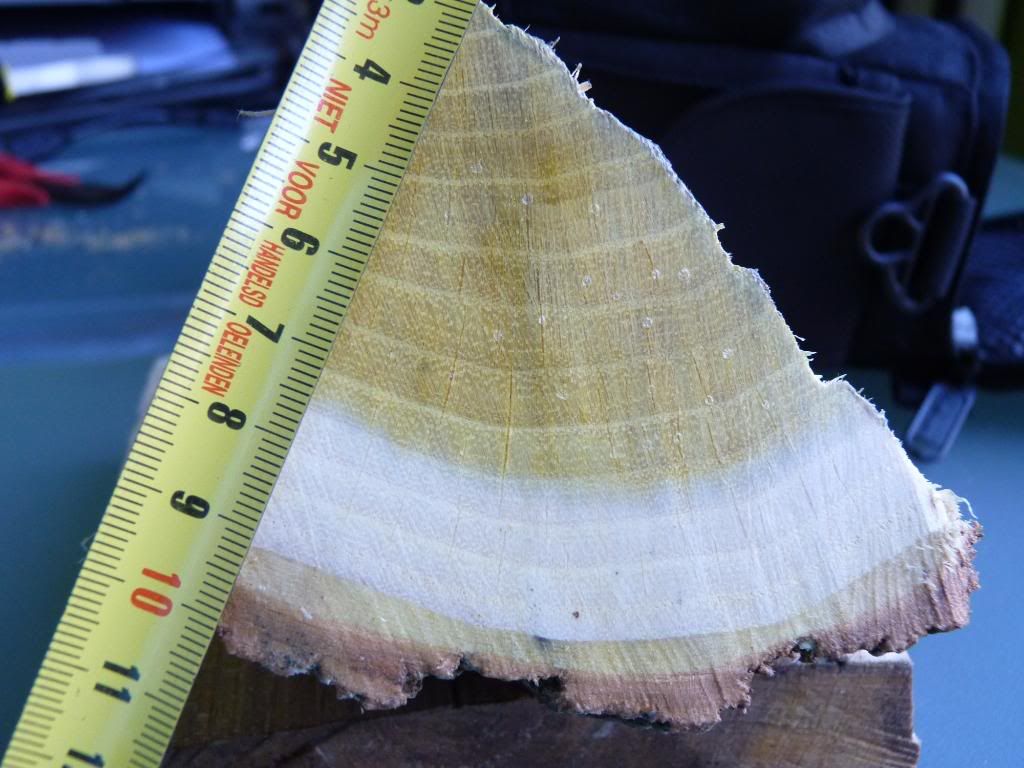 Here's a close-up of the rings of the black locust. Very fat rings, with little earlywood. Rings are about 5 to 6 millimetres each! Unfortunately the color of this wood isn't too dark. This end has been sealed with glue, so the color appears much darker than it actually is.
Later I dried a small piece of black locust, in order to determine the specific gravity (density). The SG at EMC (ambient room temperature) is about 0.72. Oven dried sample is not completely reliable, but looks to be around 0.68 (possibly 0.69). I'm pretty pleased with the SG; it is a bit above average which is 0.66 to 0.68.
After splitting and cutting the wood, we went to my house for a cup of coffee and a meal. We even shot a few arrows in the field. We talked bows and arrows the whole afternoon and evening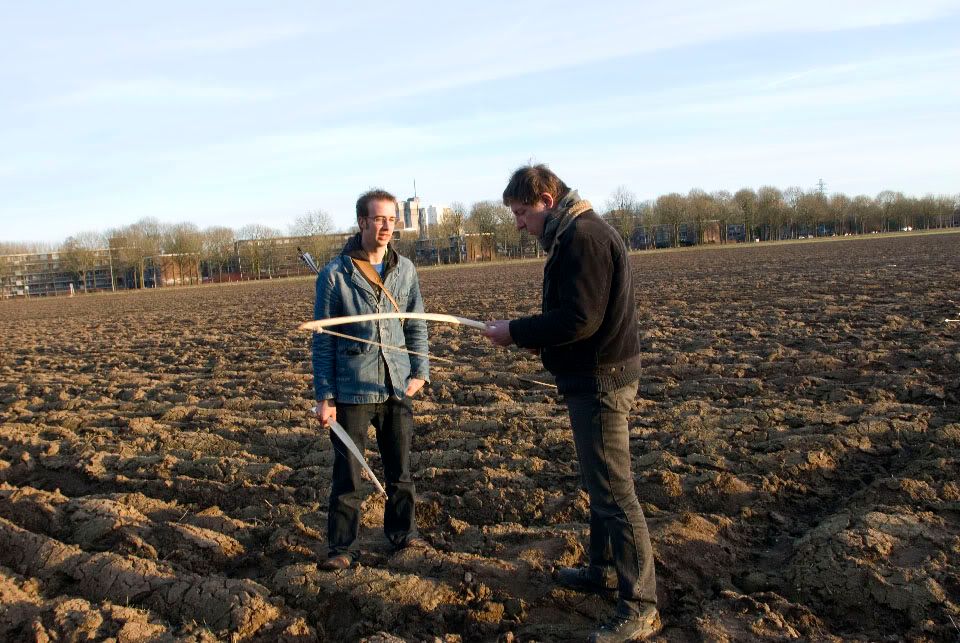 Francis and me discussing bow performance.
How fast is this piece of yew drying?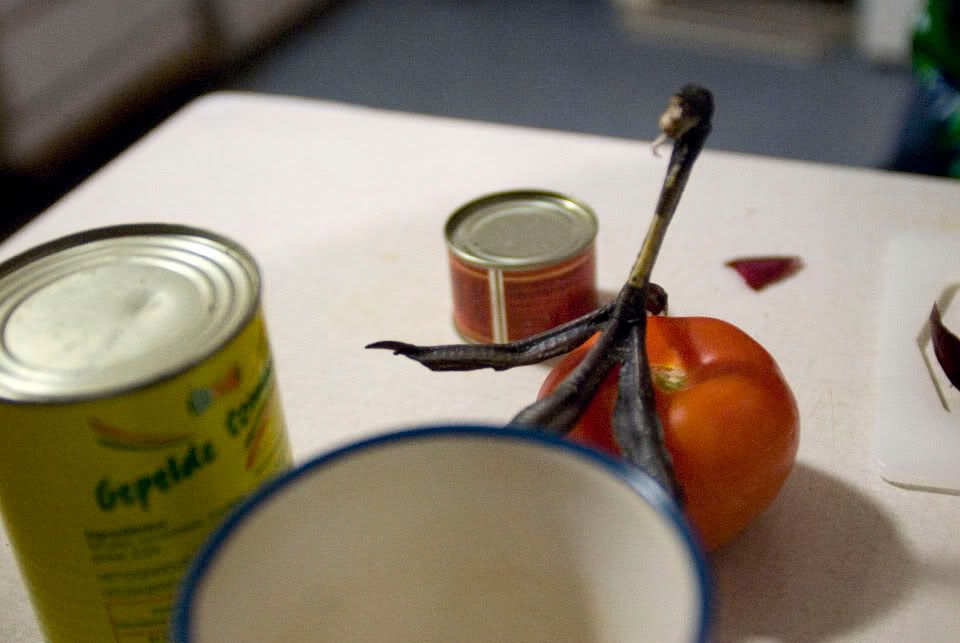 Don't ask. Really, don't
Thanks to Francis for taking these pictures!
The story of the ash
A few months ago, I read about a new road being constructed in the near future. I read about a number of ash trees that were being cut to make room for a roundabout. Coincidently this roundabout is really near my house! So I observed the road, waiting for activity of the construction workers after a cold winter. I closely watched the construction site changing. I saw people placing road signs, making detours, preparing a layout for the roundabout. One day I saw some trees were marked with a white cross. Well, X marks the spot
So I knew which trees were about to be removed. I chose one perfect ash tree. It was big, but the trunk was very, very nice! I wrote my name on a piece of paper, and stuck it to the tree. A few days later I received a phone call from a guy working at the site. He read my paper, and informed me that he will keep the log for me! So I was already very happy with that. But I also knew that he may – unknowingly – cut to log into short sections, or damage the trunk. So I informed him about my requirements, and hoped for the best.
Last week (Monday) I took my trusty bike again, and went to the site. It is actually really nearby; only two minutes by bike. The log was exactly where the guy on the phone told me he would put the log. He did very well! The log was about 7" in length, and about 6½" feet was free of knots. But man, this log is big! It's about one foot across! I know it's ash, which is supposedly easy to split, but the size is killing me. But what can I do? The log is really just perfect, but only a 'little' big. So I just went for it. I have only one proper (metal) splitting wedge (a simple hand axe I wouldn't mind breaking), so I had to make some wooden wedges, and get myself a 'hammer'. The hammer first was a 1 foot by 3" branch of ash. I started at the butt end, which was free of knots. Placed my axe in the centre of the log, and beat the crap out of it. I quickly realized the wooden branch was too small of a hammer. So I cut a 2 feet by 4" branch. This proved better, but too bouncy actually still. So I used a 30 pound piece of concrete instead! This proved to be good! Slowly, SLOWLY, I could see the axe head penetrating the wood deeper and deeper. In the meantime it started raining as well. Hm, not really pleasant because I was sweating as well, so now I was really soaked to the bone. I became exhausted, and the log still didn't budge. I seriously thought about giving up twice. Luckily I didn't! It took about 30 minutes of hammering on that one axe before the log finally gave way! The wooden wedges I made were not that good and often snapped. I finally made two more durable wedges out of some harder wood that was laying around. It literally took one hour to get the log into two halves since I arrived! But it was well worth the effort! The wood was extremely straight, no twist at all. Nice fat rings, and no knots!
Further processing was a breeze! Once the log is in two halves, splitting goes a bazillion times easier! It took me FOUR minutes to get one halve into two quarters! The quarters were still way too big to transport by bike and too big to dry comfortably either. So I split one half into four eights immediately. A day later I returned to the site, to split the other half. I rode my bike a few times down the road to pick up the staves one by one
I now have seven staves under my bed and under the couch :P Enough wood for about eight bows! Each stave is equally perfect. Really not a single knot and all are extremely straight. The only disadvantage is the youngest five or six rings. Those are much thinner than the other rings. I may need to chase a ring to get past those first few weak rings with a lot of earlywood.
Anyway, here are the pictures!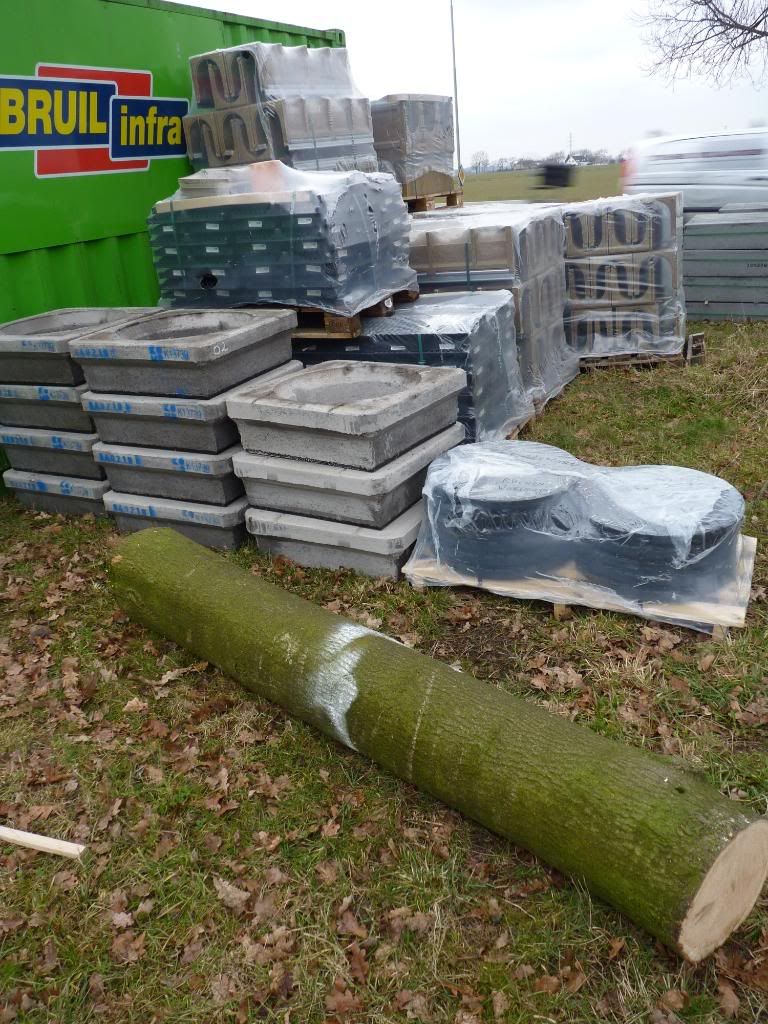 The log was right where the guy on the phone told me where to look! Perfectly cut on my commands.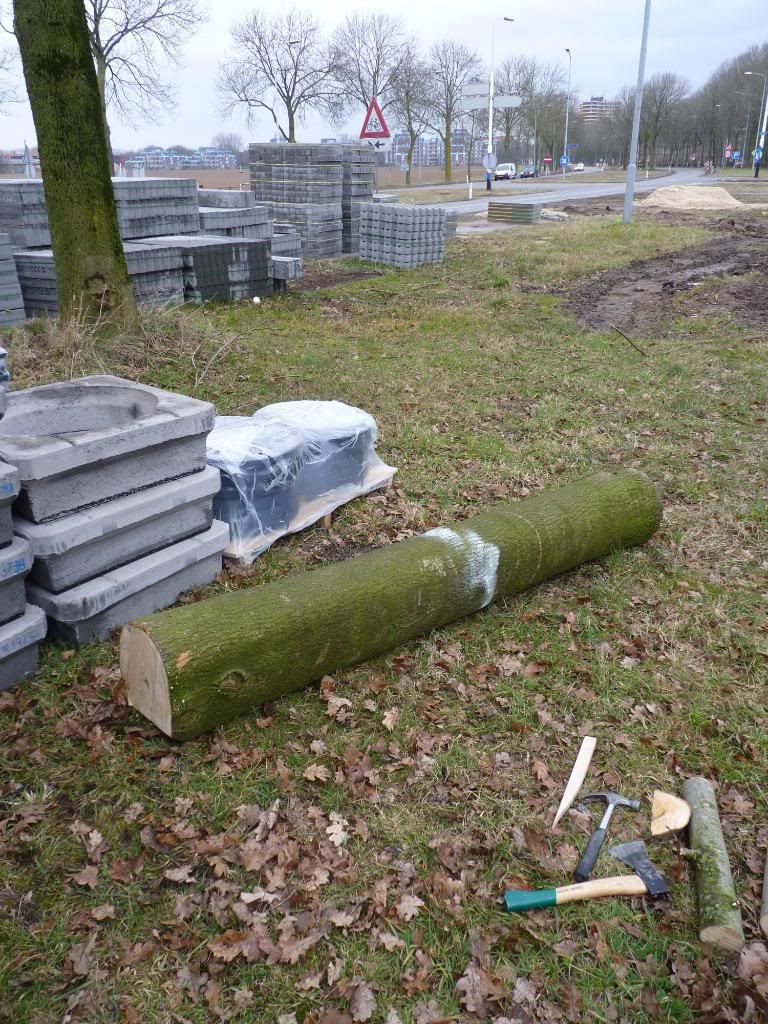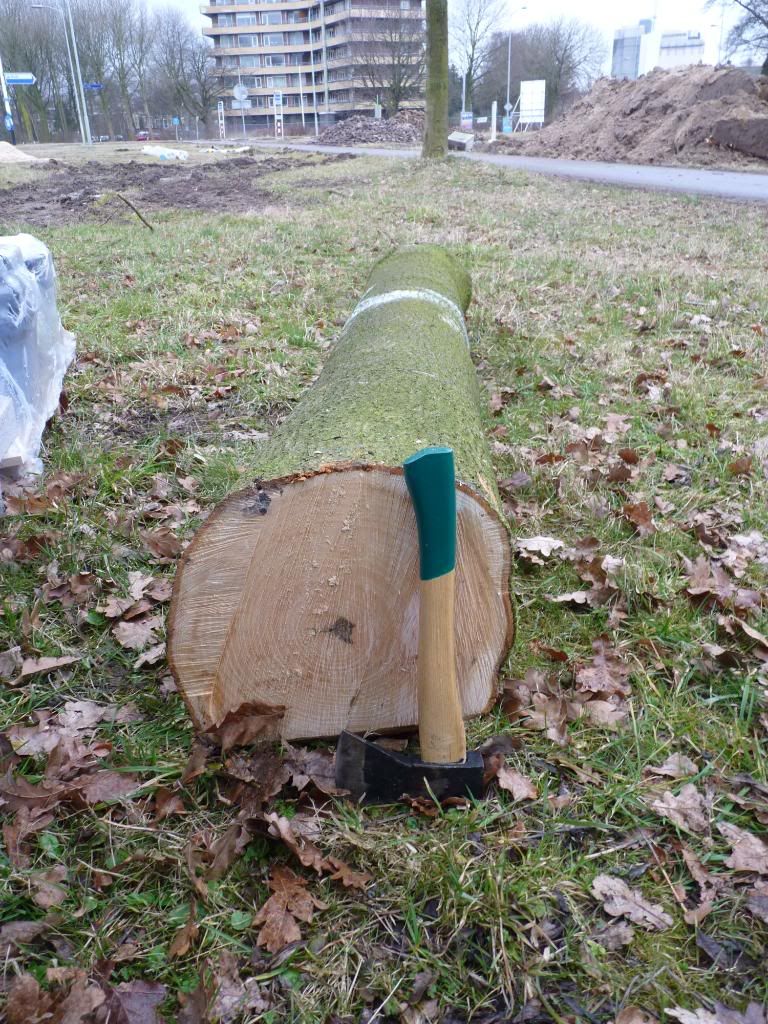 But it is big! About one foot in diameter!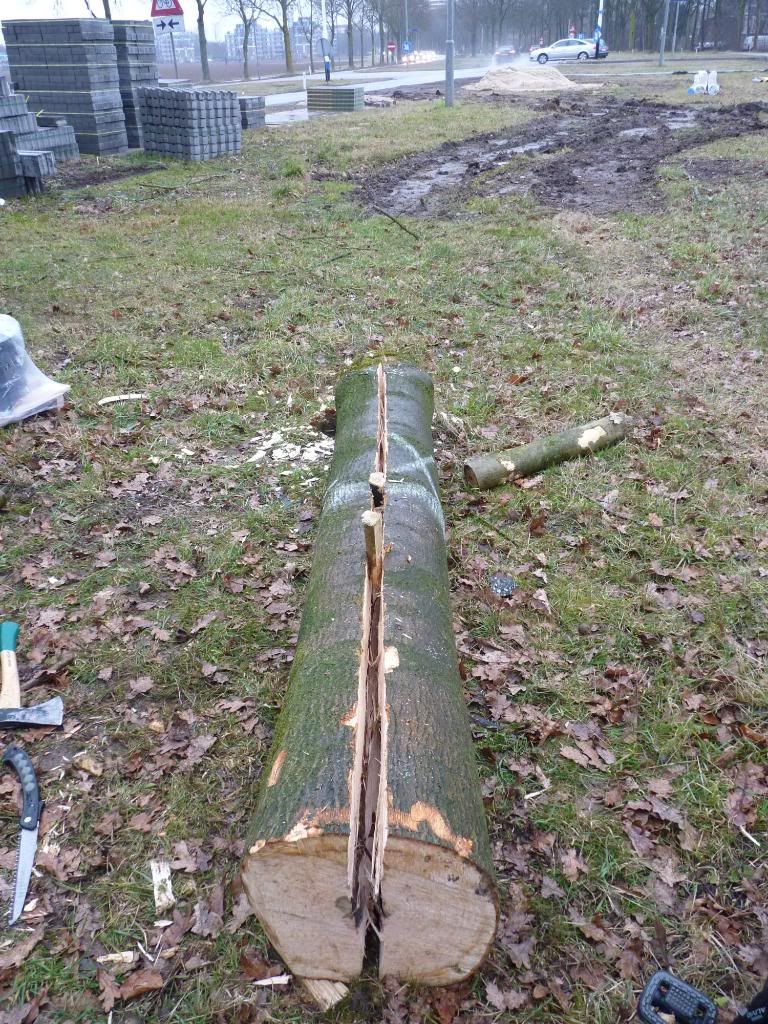 But I just went for it! About 45 minutes later, this is where I'm at. Here's also where it started raining by the way...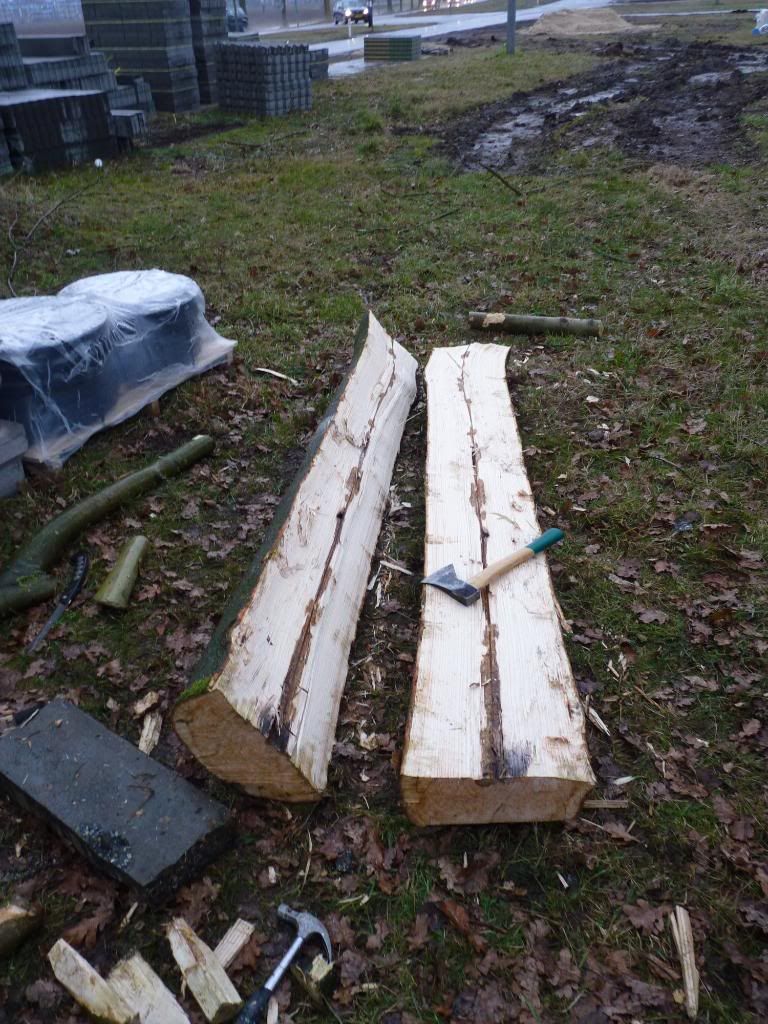 Success! Two halves! The block of concrete in the lower left corner was my hammer to pound in the axe
No twist at all.


Two minutes later…all it takes is one axe placed in the centre. This is a breeze!
Nice rings! Nice white wood!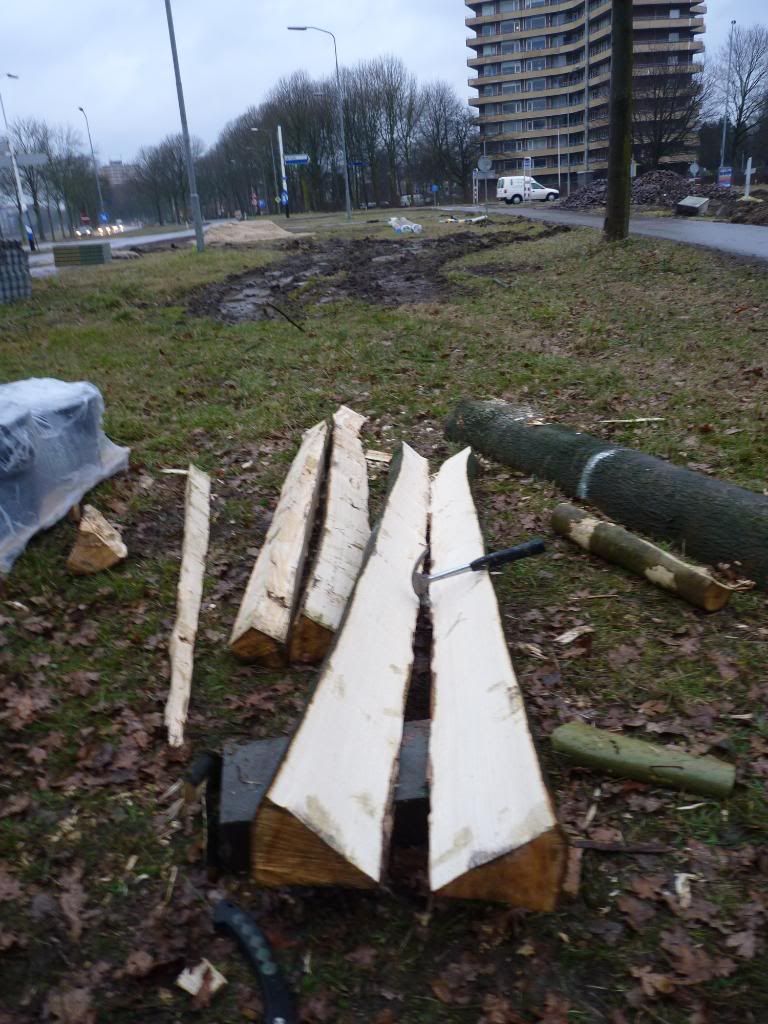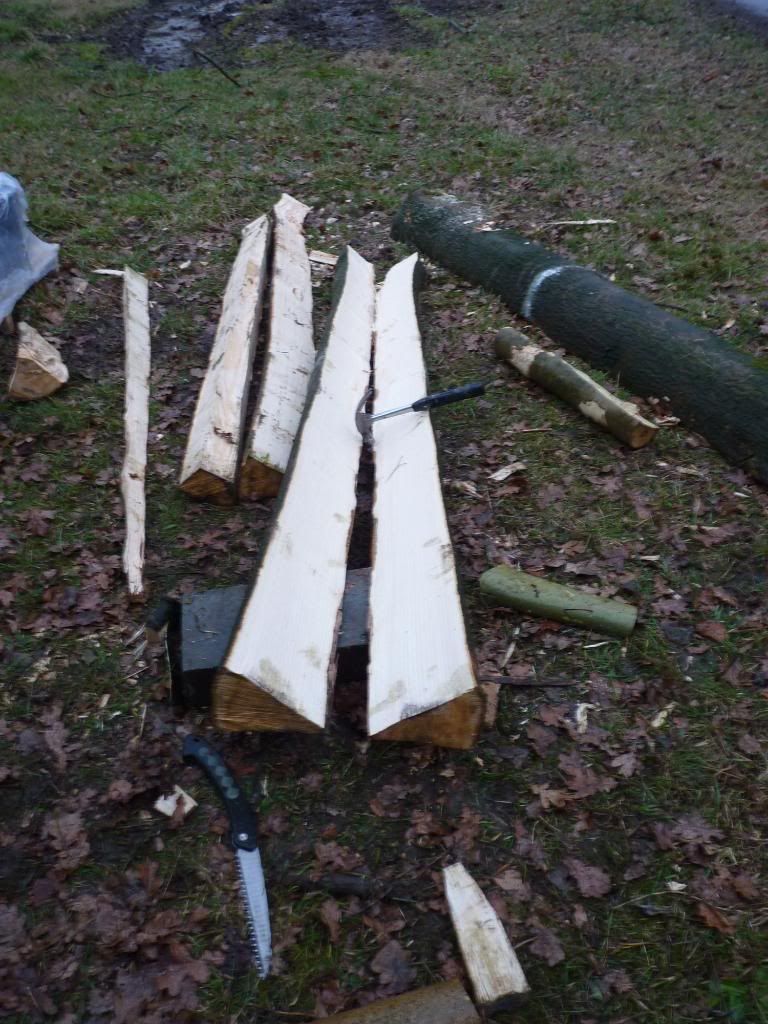 One half of the log on the right, two eights in the middle (foreground) and two eights on the left.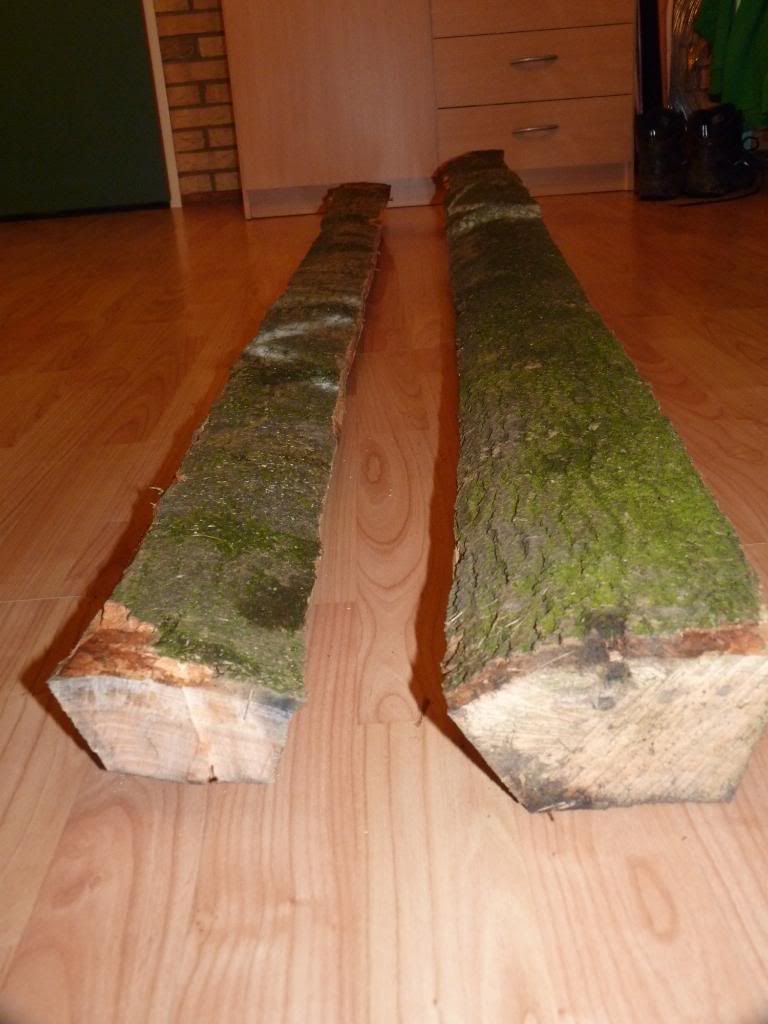 Here are the first two eights in my room! I was soaked from the rain, and pretty tired, so that's all the wood I brought in on Monday. Today I will bring in more
Nice and straight, 74" long, good rings, no twist, a slight reflex. Perfect!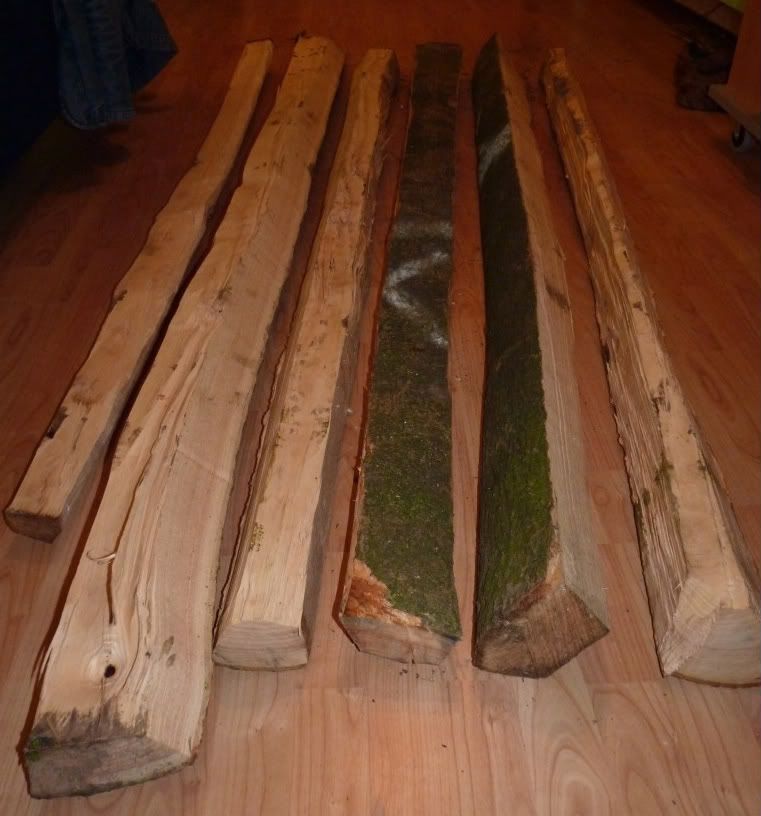 Here are six of the ash staves together. Some white spray paint on the bark that indicated this tree needed to be removed
The left stave is a piggy back stave: it is split from the belly of a large stave.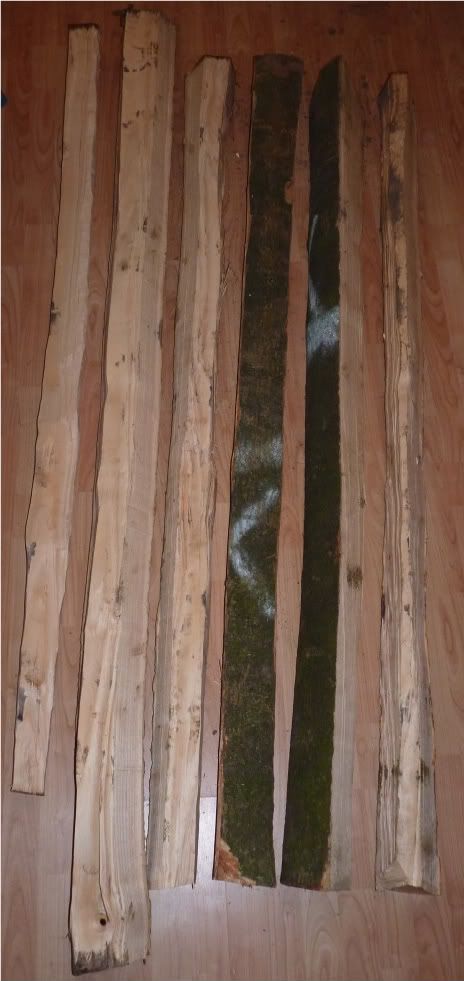 Well, this was the story I wanted to share with you! I hope it was at the very least amusing and I hope it may have helped you to split logs. I'm pretty pleased with the four staves of black locust and seven staves of European ash I now have!
Jorik